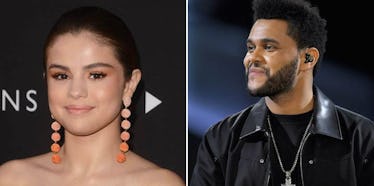 The Weeknd Made Relationship With Selena Gomez Instagram Official With PDA Pic
REX/Shutterstock
Selena Gomez and The Weeknd are getting SERIOUS, you guys.
They've been spotted kissing in pretty much every country in the world. They've been on each other's Instagram and Snapchat stories, and they're pretty much the CUTEST couple ever.
I mean, just LOOK AT THIS:
I can't.
And I'm also super happy for Selena. She had so much drama with Justin Bieber, and even if she was dating around in the meanwhile, she kept pretty damn quiet about it.
And THAT'S WHY this pic makes me so damn happy.
Even though they haven't been shy about showing their affection and piling on the PDA, the only glimpses fans have had of Selena and The Weeknd's relationship have been through disappearing vids and pics, and stalker paparazzi pics.
But it seems like they're FINALLY ready to come clean.
The Weeknd decided to make them Instagram official, which means the relationship is pretty much destined to end in a marriage proposal... right?
I mean, in this day and age, if you're on Instagram together, THINGS ARE SERIOUS.
And might I add, the pic is ADORABLE. It's not like I expected any less from them, but still.
Selena's not even looking at the camera: She's just totally concentrating on giving her man a sweet smooch on the cheek. The Weeknd's seductively looking over at the camera, and it's totally obvious this is a selfie.
So, the two of them were MOST DEFINITELY alone.
AW.
Even though Selena DID post an adorable vid of The Weeknd on her Instagram way back in January, she deleted it soon after.
But now, it looks like Abel is pretty much determined to show the world they're a THING, and to back away from his girl.
But seriously, it took him long enough.
HOPEFULLY, this is just the start of a TON of cute selfies from the pair. Because I don't know about you, but I am LIVING for this couple.
And the Biebs can just keep his shade to himself.
Citations: Selena Gomez And The Weeknd Show PDA In New Instagram Pic (Us Magazine)