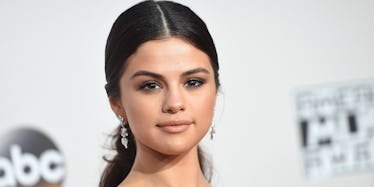 Selena Gomez Doesn't Want Her Relationships To Overshadow Her Success
REX/Shutterstock
Imagine being an incredibly talented recording artist with countless accomplishments. Now, imagine the world being too blinded by the juicy gossip about your love life to appreciate your talent.
That's likely what Selena Gomez is experiencing. Or at least that's what can be gathered from recent statements made by her team.
According to TMZ, the 24-year-old singer is sick and tired of people defining her based on the men she dates. Apparently, Gomez wants people to focus more on her success as an artist instead of her relationships.
The report states,
She's proud of her accomplishments as a singer and thinks every time she hooks up with someone people ignore her as an artist, a TV producer for a new show, the face of Coach and the most followed person on Instagram.
Another detail indicates the singer wants her ex-boyfriend Justin Bieber to move on "from his obsession with her." This could have something to do with Bieber seemingly calling out her new man The Weeknd on Instagram Live.
With JB constantly stirring the pot, it's hard for fans to focus on the fact Selena Gomez is the face of a prestigious fashion brand like Coach or even focus on her new single, which she previewed on Snapchat.
The award-winning artist seems to be serious about separating herself from her relationships in the public eye.
Not only did the star ditch the Grammys and let The Weeknd attend the show solo, but she's also made sure to present herself independently at numerous events since they began dating.
Whenever they are together, they're usually low-key about their PDA. Fortunately for fans, the paparazzi have pretty good cameras and were able to capture the couple sucking face on a yacht before Valentine's Day.
So much for lying low!
Most recently, Selena Gomez showed her generous side after covering a $30,000 tab for The Weeknd's birthday bash -- and she wasn't even there. Gomez had been in NYC attending several New York Fashion Week events.
While she'd rather have the world focused on her independent success, there's nothing wrong with becoming the ultimate #RelationshipGoals...
Just embrace it, Selena. It comes with being famous AF!
Citations: Selena Gomez Sick of Being Defined By Boyfriends (TMZ)