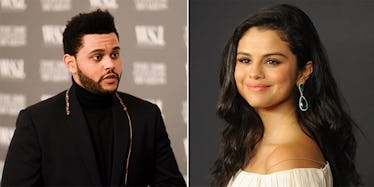 Selena Gomez Paid For The Weeknd's $30K Birthday But Wasn't Even There
REX/Shutterstock
When was the last time you shelled out $30,000 on a hot date?
By the way, spending a combined $30,000 paying back student loans after college does not count!
Selena Gomez raised the bar incredibly high when it comes to doing sweet things for your significant other. The 24-year-old singer reportedly covered The Weeknd's $30,000 tab during his birthday bash in Los Angeles.
The Weeknd, whose real name is Abel Tesfaye, partied it up at Dave & Busters in Los Angeles with his celebrity friends.
According to TMZ, artists like Big Sean, 2 Chainz, French Montana, Travis Scott, Bryson Tiller and Migos were all in attendance to celebrate The Weeknd's 27th birthday with games and drinks.
The report states the entire venue was shutdown for the private bash, which was held from 11 pm-2 am. Unfortunately for The Weeknd, his superstar girlfriend Selena Gomez couldn't make it to the surprise party.
Gomez is in New York City for Fashion Week. However, that didn't stop her from showing The Weeknd just how much he means to her. The 24-year-old starlet apparently left her card behind to cover the bill.
If that isn't the most romantic thing I've ever heard, I'm not sure what is... Well, maybe this bootylicious V-Day selfie of Ariel Winter and her man in Cabo is.
But that's definitely not as awesome as Gomez forking over 30 grand for a guy we're not even sure she's officially and exclusively dating. Although, we have good reason to believe she is...
I mean, weren't these two just caught sucking face aboard a luxury yacht this weekend? Um, yeah, they certainly were!
Oh, and this is just one of The Weeknd's birthday parties taking place before his actual birthday on February 16. You know, casual.
If you were cheap this Valentine's day, you're going to want to make sure you DO NOT let your significant other see this! If you're name is Justin Bieber, you're going to want to look away, too.
Citations: Selena Gomez Gives The Weeknd $30K BDay Surprise... But Skips The Party (TMZ)