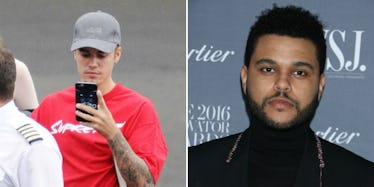 Justin Bieber Trolls The Weeknd On Instagram Because He's Petty AF
REX/Shutters
Bruh, it's time to let it go...
On Sunday, February 12, The Weeknd was trying to figure out what to do with his hands while performing his hit "Starboy" on stage at the Grammys.
Meanwhile, Justin Bieber, who was nominated for four awards including Album of the Year for "Purpose," chose not to attend the award ceremony.
Instead, he posted a super salty Instagram Live video and seemed to have dragged his ex Selena Gomez's new boyfriend.
lmao @justinbieber @AlfredoFlores [ fave song at the moment?: Justin said "Starboy by The Weeknd"] pic.twitter.com/xAYJTKk4L4 — ♛❥Sayuri.B (@rampon009) February 13, 2017
In a Q and A with his fans on the social media app that he just returned to after a seven-month hiatus, one person asked Bieber what his favorite song was at the moment.
Bieber responded in a deadpan fashion,
Uh. 'Starboy' by the Weeknd.
Then he giggled for like 20 seconds.
The 22-year-old singer told his friend Alfredo Flores,
Oh, shit. That was funny.
While laughing, Bieber said,
We've got to end it now. Oh, that was too funny. Bang, bang!
Shots were obviously fired.
I'm not sure why, though? It's been how long since Bieber and Gomez were a couple? Like since 2014?
Ah, but it's true... you never do get over your first love, do you?
Just last month, when Bieber was asked if he could listen to a song by The Weeknd, he said,
Hell no, I can't listen to a Weeknd song. That shit's whack.
It seems like the little bit older, little bit wiser singer The Weeknd is taking the high road and ignoring these comments made by the Biebs.
After all, he's the one who gets to go home with Selena.
Word of advice, Justin: The sweetest revenge is a well lived life. Also, stop throwing shade at your ex and her new boyfriend -- it just looks desperate.
At least act like you're happy for them.
Citations: SELENA & THE WEEKND WE'RE WITH RIRI While Justin Throws Shade (TMZ)