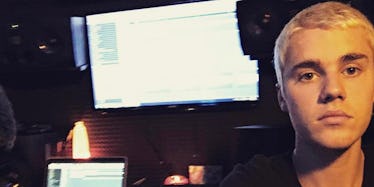 Justin Bieber Posting New Insta Pics Is All Of Us Trying To Make Our Ex Jealous
Instagram
Calling all Beliebers...
It would appear Justin Bieber is alive and well on Instagram. You can now take a deep breath and resume living your lives in peace.
The 22-year-old star returned to Instagram on February 8 after posting 11 consecutive photos of complete randomness. I'm sure his fans aren't complaining, though.
After all, they had to live without Bieber on Instagram for several months after he got into a heated exchange with his ex-girlfriend Selena Gomez. The dispute, which was made public on Instagram, was over Bieber's then-fling Sofia Richie.
One word: DRAMA.
Justin had been spending time with Lionel Richie's 18-year-old daughter when his fans began to speak out against her.
As a result, the 22-year-old singer told his fans he'd be deleting his Instagram if they continued to bash Richie.
Of course, Selena Gomez then came crawling into Bieber's comments section, telling him he needed to treat his fans better.
Days later, Bieber deactivated his Instagram account and kept off of the photo-sharing platform for months. Now, he's finally back, and he isn't wasting ANY TIME flooding your Instagram feed.
Justin Bieber made his triumphant return to Instagram by posting a total of 11 random photos of himself. As expected, his loyal Beliebers were ecstatic.
The first photo he posted was promoting his Purpose Tour.
He then followed up with a selfie of himself.
That wouldn't have been enough for his fans, so he continued posting away.
Don't worry, not all of the pics were designed to take your breath away, ladies.
One of the photos was from his appearance at the All-Star Celebrity Shootout in Los Angeles in which Bieber was slammed against the wall.
Apparently, Beiber's fans REALLY love him because they couldn't help but comment "te amo" on even this photo.
I just want to know what I have to do to rack up over 100,000 likes in less than 30 minutes.
For the eighth picture he shared, he described it as his "weirdest moment."
Judging by the caption under this photo, it seems like JB was just saving up a bunch of "content" on his phone during his hiatus.
He eventually wrapped up his Instagram frenzy with two photos of him in what appears to be a recording studio.
Does this mean he's about to drop some fire? Is he just teasing his fans? We'll just have to wait and see.
While we didn't see any subliminal messages directed at Selena Gomez during Justin's Insta-spam session, it'll be interesting to see if she ends up mouthing off in his comments section again.
For now, we'll just assume JB simply got bored without Instagram and decided to rejoin civilization!