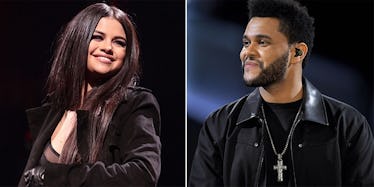 PDA Overload: Selena Gomez And The Weeknd Caught Sucking Face On Luxury Yacht
REX/Shutterstock
Ah, young love. Is there anything like it? Who doesn't remember those days and nights spent locking mouth holes with the one you swore you would love forever?
Oh, the places that you'll hoe.
The places I haven't made out at are few and far in between. I've let another person put their tongue in my mouth at movie theaters, bars, Forever 21 changing rooms, a bodega freezer, inside the ticket booth at Port Authority at 42nd and 8th...
But the closest I've gotten to making out on a luxury yacht would be macking on a face in a shipping container a few yards down from the port.
Selena Gomez and The Weeknd are capable of having a tongue war on an actual yacht, however...
Marina Del Rey? More like Selena Del BAE.
This is probably one of the classiest Valentine's Days ever -- The Weeknd definitely has a romantic side.
Personally, I don't get on a boat with any romantic interest without a life vest because I have experienced far too many failed murder attempts trying to get life insurance they have taken out on me. You live and learn.
The yacht Leight Star rents for $85,000 a week, which if my math is correct, would pay for over six years worth of my rent.
On Sunday, The Weeknd performed at the Grammys and attended a number of after parties with his girlfriend Selena.
Her ex Justin Bieber skipped out on the event, despite being nominated for Album of the Year for "Purpose," and instead shaded the "Starboy" singer on an Instagram Live post.
But if these smoochin' pictures are to be believed, the shade didn't affect the couple's getaway at all. If anything, it just showed off how butt hurt Bieber may be that his first love has moved on to someone a little bit mature.
Anyway, do your V-Day plans include a yacht? Mine include a yacht of alcohol! Haha, get it? Like "a lot" except "a yacht."
Citations: THE WEEKND & SELENA GOMEZ THE HEART WANTS WHAT IT WANTS (TMZ)