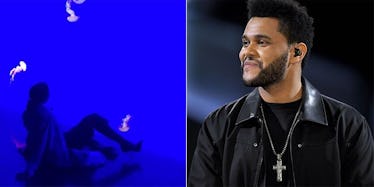 The Weeknd's Entire Instagram Story Was Pics Of Selena At The Toronto Aquarium
Snapchat/REX/Shutterstock
The Weeknd and Selena Gomez have been enjoying a romantic getaway in Toronto, Canada the past few days, and things are getting hot 'n heavy.
During their trip to Abel's hometown, the couple has been pictured shamelessly swooning over each other in public.
I'm talking kissing, hugging, giggling, holding hands... the whole nine yards.
They look SO happy. I can't handle their cuteness. Guys, please.
In between the shopping and the PDA in the Canadian city, the couple decided to go on a date to Ripley's Aquarium of Canada together on Sunday night.
While Selena kept the fish-filled outing on the down low, Abel recorded the entire visit on his Instagram Story -- and his bae was the main focus.
The rapper took pictures of the "Hands to Myself" singer hanging out near the water, staring at the purple jellyfish tanks and peeking inside a replica submarine during the date.
TBH, it's pretty adorable.
There she is!
There she is, again...
... and again!
There's no denying Abel wanted the entire world to know he was on an aquatic date with his lover.
We get it, man. You guys are happy AF.
He even snapped a selfie in the aquarium to further confirm he was there with her (as if we didn't already know that).
These two really love jellyfish, huh?
Anyway, we have to hand it to him for keeping the romance alive with an ongoing flow of interesting dates around the world.
From museum trips to aquarium dates, these two know how to have fun.
Even though The Weeknd isn't afraid to let the world know about their relationship, Selena is seemingly hesitant to give us the details.
In a recent interview with Vogue, the singer was asked about her relationship, and she responded with,
Oh, Mylanta! Look, I love what I do, and I'm aware of how lucky I am, but — how can I say this without sounding weird? I just really can't wait for people to forget about me.
Based off the most recent photos of their romantic endeavors, we can assume they're doing just fine.
Citations: Selena Gomez and The Weeknd Go on Aquarium Date in Canada: Pics! (ET)