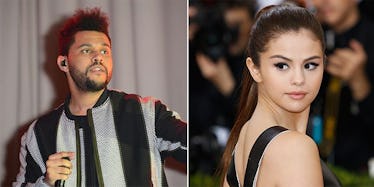 Selena Gomez And The Weeknd Pack On The PDA In Pics From Romantic Toronto Trip
REX/Shutterstock
Things sure are heating up between Selena Gomez and The Weeknd.
We've seen them make out behind a dumpster, suck face on a luxury yacht and send each other secret messages on Insta, but now there's even more!
The two packed on the PDA while on a romantic getaway in Toronto.
The Weeknd took Selena to his hometown and pics show the couple walking down the street kissing and holding hands.
According to E! News, the duo went on a movie date the night before to see "Get Out" in a private VIP section of a movie theater.
HOW ROMANTIC.
Yup, just check out the pics, folks. The Weeknd won't stop kissing Selena Gomez and our hearts just can't take it.
LOOK AT HOW CUTE THEY ARE! THEY ARE LITERALLY HOLDING HANDS!!!!
They are so in love, it hurts. I'm serious, I feel physical pain in this moment.
I want a boyfriend to go shopping with and 12 bodyguards to creepily follow us around. GIRL'S LIVIN' THE DREAM.
Selena Gomez was recently asked about her man for her Vogue cover story, but the 24-year-old refused to answer the questions.
When asked about The Weeknd, Selena's only comment was,
Oh, Mylanta! Look, I love what I do, and I'm aware of how lucky I am, but — how can I say this without sounding weird? I just really can't wait for people to forget about me.
Come on, girl. Give us some JUICE.
Rather than talking about her love life, Selena focused the interview around her mental health. She told Vogue,
Tours are a really lonely place for me. My self-esteem was shot. I was depressed, anxious. I started to have panic attacks right before getting onstage, or right after leaving the stage. Basically I felt I wasn't good enough, wasn't capable. I felt I wasn't giving my fans anything, and they could see it — which, I think, was a complete distortion.
She further discussed the relationship she's developed with her fans over the years:
People so badly wanted me to be authentic, and when that happened, finally, it was a huge release. I'm not different from what I put out there. I've been very vulnerable with my fans, and sometimes I say things I shouldn't. But I have to be honest with them. I feel that's a huge part of why I'm where I am.
We're with you, Selena, whether you talk about The Weeknd or not!
Citations: Selena Gomez and The Weeknd Kissing (E Online)