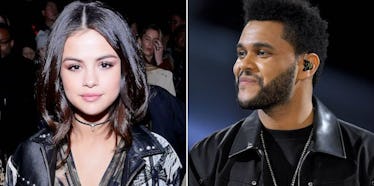 Selena Gomez Gave The Weeknd A Tiny B-Day Shoutout On Insta And No One Noticed
REX/ Shutterstock
In case you're unaware, earlier this week, The Weeknd celebrated his birthday with a lavish party in Los Angeles at Dave & Busters that cost a whopping $30,000.
Do you know who paid for it? His bae, Selena Gomez -- and she wasn't even there.
Ha... pocket change, right?!
It's hard to follow such an outrageous act of kindness, but Selena found the perfect way to put the cherry on top of her boo's birthday bash.
She didn't take him on another European vacation, shower him with presents or release a song dedicated to their newfound love (I'm sure that's coming, though).
What could she have possibly have done that could top a celebration worth $30,000?!
Drumroll, please...
She liked his Instagram post, and nobody even noticed.
Selena has liked The Weeknd's latest Instagram photo! pic.twitter.com/W4Qwx6oahB — Selena Gomez News (@LifeWithSelG) February 16, 2017
Guys, this is a big deal.
We live in 2017, and "liking" your crush's Instagram post is pretty much the equivalent of screaming "I LOVE YOU" -- especially in the case of Selena Gomez and The Weeknd.
You see, this celebrity couple is the most elusive celebrity couple in the recent history of celebrity couples.
They haven't even confirmed the fact they're official yet (even though we can already assume they're pretty damn into each other).
The fact Selena liked an Instagram post dedicated to his birthday is the cutest act of love, and as slick as she might've thought she was, we totally caught on.
The jig is up, Selena. We see you.
The Weeknd posted a photo of himself on his actual birthday, which was February 16.
The caption reads,
Celebrating all year and partying every night all over the world starting with Sweden. Let's fucking get it. XO
The fact Selena and Able can both pursue their music dreams while simultaneously doing the "normal" couple thing like throwing parties and "liking" each other's IG pics proves they're going strong.
Keep an eye out on Instagram to see which one of 'em is going to go for the almighty double-tap next.