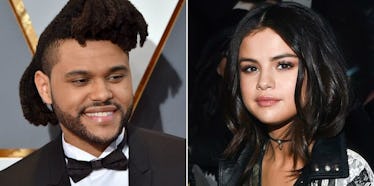 Selena Gomez And The Weeknd Continue Their PDA In New Pics Of Argentina Trip
REX/ Shutterstock
Selena Gomez and The Weeknd have been flaunting their undying love for each other, one continent at a time.
So far, the couple's been spotted kissing in multiple countries -- everywhere from Canada to South America, and they certainly aren't getting sick of one another.
Heck, they even went to freakin' Florence together a few weeks into their relationship.
(I can't even get a dude to buy my dinner, let alone fly me to Europe for a romantic date.)
The couple's most recent romantic endeavor was in Buenos Aires, Argentina, on Tuesday afternoon, and you better believe there was shameless PDA involved.
Selena and her beau, Abel, were spotted multiple times strolling through the city without a care in the world.
Abel's arm is around her, guys. This means love.
Well... at least Selena looks happy in this one!
THEY'RE KISSING. SO CUTE. MY HEART IS SO FULL.
More walking. More hand-holding. More smiling.
Abel opened the car door for her! Chivalry isn't dead!
Yup. Still holding hands.
Is that... a smile? IS THE WEEKND SMILING?
He is! I wonder what they're looking at on Selena's phone.
Here they are casually strolling down the street.
You guessed it -- they're sill holding hands!
Between the kissing, the cuddling and the obsessive hand-holding, it's obvious these two had a romantic stroll through Buenos Aires together.
However, this wasn't the only overwhelmingly cute way the couple expressed their love for one another in South America.
Selena was VIP during The Weeknd's show in Brazil earlier this week, and posted an adorable Instagram story from behind the scenes.
She filmed the massive crowd, and then focused on her bae walking across the stage.
I wonder what country these guys will hit next with their massive amounts of PDA. I hope the citizens are ready for a cuteness overload.
Citations: Mi amor! Giggling Selena Gomez slips into a flirty black sundress as she enjoys a romantic stroll in Buenos Aires with The Weeknd (DailyMail.com)