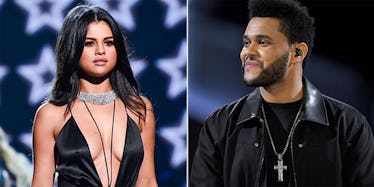 Selena Gomez Can't Stop Listening To 'Starboy' Since Going Public With The Weeknd
REX/Shutterstock
It seems Selena Gomez has been listening to and very much enjoying The Weeknd's music ever since the two were caught making out last week.
How could I possibly know that Selena was listening to The Weeknd?  The answer is complicated, and a little bit creepy.
See, Selena was photographed getting out of a car in West Hollywood by paparazzi on Sunday.
In one of these photos, you can see Selena holding her phone.
If you zoom in on Selena's phone screen, you can just barely make out a blurry album cover.
And that blurry album cover just happens to match the album cover of The Weeknd's most recent album, Starboy.
I'll give Selena Gomez fans this: They are some damn good detectives. Scary detectives, yes, but damn good ones.
To me, this means Selena is all in on a relationship with The Weeknd. You don't walk around smiling like that while listening to just anyone's music.
Maybe there is some merit to the theory that the song "Party Monster" is about Selena Gomez, not Selena Quintanilla-Pérez.
Even though they haven't officially declared themselves a couple yet, we do have these facts on Selena and Abel Makkonen Tesfaye. (The kids are calling it #Abelena.)
1. Last week, Selena and The Weeknd totally made out with each other's faces.
We have this one on camera.
2. Bella Hadid, ex-girlfriend of The Weeknd, unfollowed her friend Selena on Instagram.
Bella also posted this pretty blatant "fuck you" Instagram a few days after the kissing photos went viral.
Apparently Selena and The Weeknd started dating right after he ended things with Bella, and she was not happy.
But some people say Bella and Selena were never that close anyhow.
3. Selena really doesn't want to talk about it yet.
She dodged questions about the matter while leaving a restaurant on Sunday night.
4. This whole thing is really complicated.
As Elite Daily writer Eitan Levine has so comprehensively illustrated, Selena and The Weeknd are just another connection in the weird, incestuous mess that is celebrity hookup culture.
Can't wait to see where this complicated mess of a relationship goes next!
Citations: Selena Gomez Is All Smiles as She Listens to The Weeknd's Album 'Starboy' (Us Weekly)