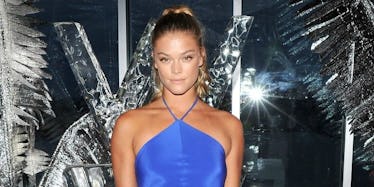 Leonardo DiCaprio's GF Nina Agdal Dropped A Sexual Video Dancing In Lingerie
REX/Shutterstock
From Emily Ratajkowski to Hailey Baldwin -- Love magazine has been absolutely killing it with its Advent calendar.
For those unaware, Love mag has been showering us with ridiculously hot, steamy and sexy videos featuring the likes of not only Ratajkowski and Baldwin, but also Bella Hadid, Kendall Jenner, Karlie Kloss, Abbey Clancy, Ciara and more.
The latest ridiculously hot celebrity to star in a Love Advent video is Leonardo DiCaprio's girlfriend, Nina Agdal.
The 24-year-old Sports Illustrated swimsuit model is an absolute stunner -- I hate you, Leo -- and she sizzles in some very sexy and revealing lingerie in this Love magazine vid.
Without further ado, check out the sexy Danish model in the latest ridiculously sultry Love Advent video.
According to Love mag's Instagram post, Nina Agdal's video was directed by Hype Williams, and it is seriously sexual.
Leo, buddy, how you feeling after watching this video of your girl?
Yeah, I had a feeling.
Nina Agdal is an absolute smokeshow, and the way her relationship with Leo DiCaprio came to light is, well, pretty hysterical.
Apparently, Agdal's grandmother broke the news her granddaughter was dating DiCaprio. She reportedly told the Daily Mail,
I can tell you that it is six years since they first met, and now the relationship apparently developed. We hope that he behaves towards her; otherwise, he will get me to deal with.
Ayo, Nina Agdal's grandma is a certified gangsta!
Speaking about her grandma's bold words, Agdal said,
It's kind of hysterical, right? First of all, my grandma is like 75 years old. She's in Denmark. And she's on Twitter, she's on Instagram, she's on Facebook. She's really into the internet.
The 24-year-old model continued,
And I've told her, 'It's fine to follow all my accounts, but only if you're okay with what I do! If you're okay with my pictures, and you don't make negative comments about my choices, then I'm fine with it.' But Grandma, she's a special one. I don't know what happened with [The Daily Mail]. I'm not going to ask. I'm just like, 'Well, this is hysterical.' Because you can't keep a secret anymore. You literally can't. That's the lesson.
I'll tell you this, Agdal revealed all her secrets in the above Love Advent video!
Citations: Lucky Leo! Nina Agdal shows off her enviably toned stomach and ample assets in racy plunging lingerie as she dances seductively in new LOVE Advent video (Daily Mail)