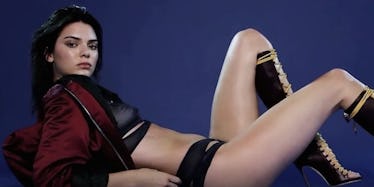 Kendall Jenner Frees Her Nipples In Raunchy New Advent Calendar Video
YouTube
Richard Gere's dream for Tibet in the '90s is Kendall Jenner's dream for her nipples always: freedom.
The reality-star-turned-model-whose-legitimacy-is-constantly-questioned (Like, it's happening. It happened. Get over it. Who cares who's selling you underwear?) has routinely committed herself to normalizing nips.
In September, she wrote on her website in a post titled "Braless or Bust!"
Lately, it's like I'm either braless or I have my bra out, LOL. I'm all about freeing the nipple! ...I just think it's cool to show off what's under your shirt — whether that's a cute bralette or just skin.
LOVE magazine is giving Kenny the perfect platform to continue her efforts to make nips mainstream by welcoming the 21-year-old back for the annual advent calendar.
Last year, Kendall appeared in the magazine's video series as a sexy Jaws AND a sexy Bambi. This year, she's forgoing the whole animal thing for some Hype Williams-directed… boxing stuff? Right? That's the look, right?
Sure, Rocky never appeared in Agent Provocateur, but no one can prove he wasn't wearing lingerie under those sweats.
Kendall's video for the fifth day of the calendar follows Bella Hadid's Dec 1 cigarette-aerobics vid.
Irina Shayk's December 2 homage to "Ghost."
Rita Ora's December 3 lederhosen broadcast.
And Ireland Baldwin's December 4 bra toss.
LOVE magazine truly is covering all the classic holiday bases this year. After all, what is the Christmas season without boobies covered in wet clay? Not one I want to celebrate.
Join me in singing this age-old chestnut, won't you?
DECK THE HALLS WITH NIPS AND BOOB FLESH FA LA LA LA LA, LA LA LA LA 'TIS THE SEASON TO BE BRALESS FA LA LA LA LA, LA LA LA LA
DON WE NOW, LIKE, ZERO APPAREL FA LA LA LA, LA LA LA, LA LA LA TROLL THE INTERNET WITH OUR BOOBIES FA LA LA LA LA, LA LA LA LA
Shut up, your song doesn't rhyme.
Citations: Kendall Jenner Poses in Lingerie for Love Magazine's Latest Video (PEOPLE)