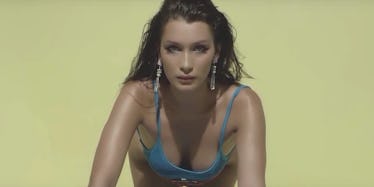 Slow Motion Video Of Sweaty Bella Hadid Working Out Is So Sexual
YouTube
The Hadid sisters are all anyone can talk about these days.
It makes perfect sense, though. Aside from the fact that they're drop-dead gorgeous, both Gigi and Bella Hadid played a massive role in this year's Victoria's Secret Fashion Show.
Gigi started off by overcoming a minor wardrobe malfunction on the runway and Bella had an epic moment on stage with ex-boyfriend The Weeknd proving that true love does exist.
So, how do the Hadid sisters top themselves when they've already stolen the show? Leave it up to Bella!
The 20-year-old model appeared in a sexy new video for LOVE magazine's "Advent 2016" in which she flaunts her beauty while working out and dancing around in 1980s fitness gear.
Honestly, this is some pretty magical stuff. I mean, I thought we were done being blessed with breathtaking visuals from LOVE magazine's new calendar after Kendall Jenner and Sofia Richie appear in a steamy video to promote it.
But NOPE, Bella Hadid just walked in, stole the show, and now I can't sleep at night.
You might just experience the same effects -- who knows?
The video's description reads,
The Bella Hadid aerobic workout by Rankin Archive and Victoria Young.
Aerobic workout? Bella Hadid? Sign. Me. The. Fuck. Up.
In addition to Bella's appearance in the new video, the 20-year-old model also appears on LOVE magazine's homepage. I don't think you're ready for this...
I'll give you just a second so your heart rate can normalize a bit...
All right, now exhale. You need to remain alive so you can watch the Victoria's Secret Fashion Show on December 5!
While most of their focus was on the runway this year, Gigi and Bella Hadid did have a few other awesome VS Fashion Show moments including an adorable sister-mother moment on the "After Party Pink Carpet" with their mom Yolanda.
And still, I just can't get enough.
Check out the full video above!
Citations: Bella Hadid All Sweaty And Working Out In Slow Motion Is What The Holidays Are All About (BroBible)