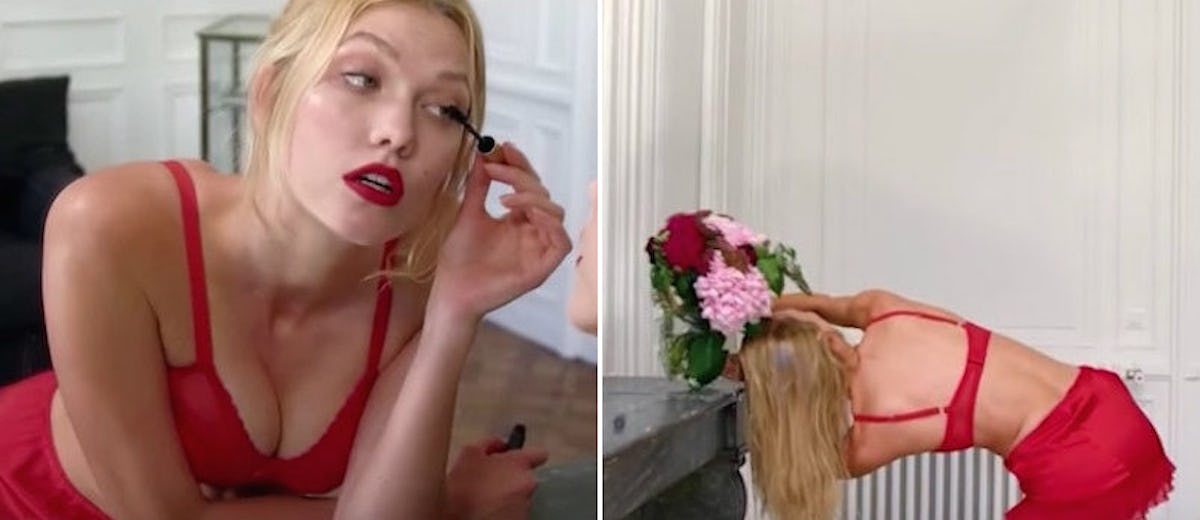 Karlie Kloss Makes Stripping Down To Red Lingerie So Awkward In Holiday Video
YouTube
Instead of watching "The Nightmare Before Christmas" this holiday season, just take a look at this video of Karlie Kloss awkwardly stripping to terrible music.
The 24-year-old model is the star of LOVE magazine's 2016 Advent Calendar and the entire thing will make your eyeballs bleed.
If you're in the mood to feel uncomfortable and a little bit creepy, then keep reading. Karlie Kloss will be the new face that haunts your dreams.
In the minute-long video, Karlie Kloss is seen wearing red lingerie in a Parisian apartment during Fashion Week.
The video opens with her entering the apartment and making weird faces in front of the camera.
She then gets down to business and takes off her dress because who fucking knows.
Then, Karlie Kloss awkwardly spins around in circles as she struggles to remove her clothing. She looks like your drunk uncle spinning his head on a baseball bat at a Fourth of July barbecue.
For half of the video, Karlie looks like she's in pain as she tries to take off her outfit. In the mirror, you can see the creepy cameraman recording the entire thing.
Karlie is not alone.
Once Karlie is basically naked (aka wearing some sexy Mrs. Claus outfit), she looks in the mirror and sniffs her armpit. The girl needs deodorant and she needs it now.
Karlie does her makeup and continues to look in pain as she squeezes her breasts together on top of a counter. We are here for you, Karl.
She then sticks her head in a bunch of flowers while we sit, watch and lose brain cells.
At the very end, she trips over her own feet and makes her way out the door. Satan's gates have closed. We made it through hell.
Just kidding, Karlie. You're a star. This was pure magic! Art! A Christmas miracle!
Be sure to check out the miserable footage in the video above.
Citations: Karlie Kloss Love Calendar (Daily Mail)