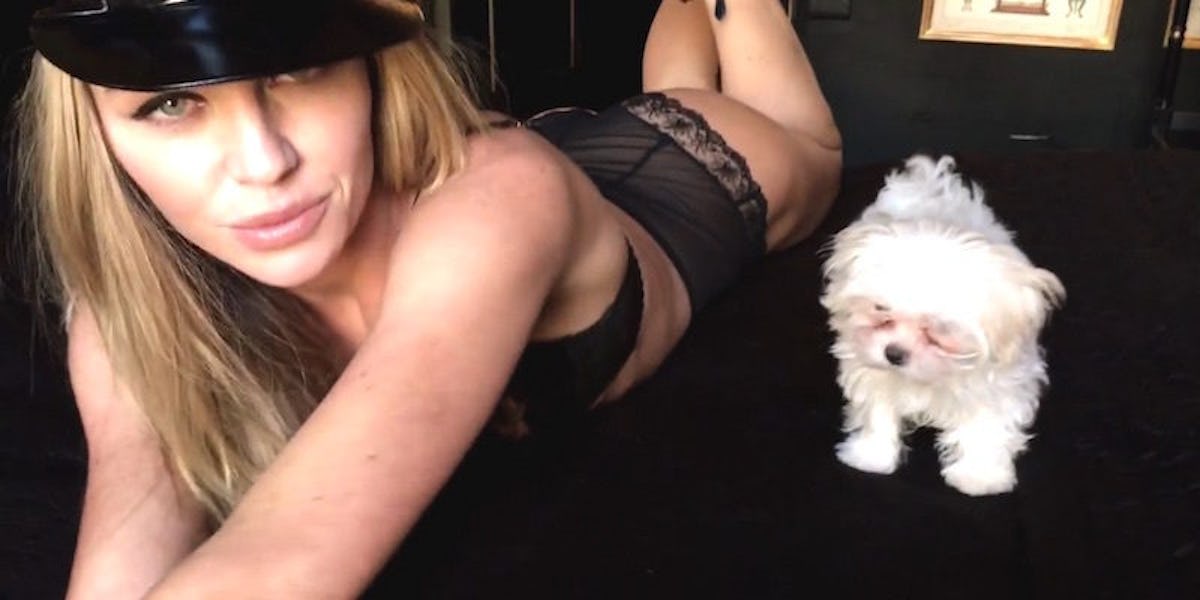 Forget The Lingerie Model: A Tiny Puppy Is The Real Star Of This Advent Video
LOVE
LOVE magazine is helping us all count down to Christmas with its sexy Video Advent Calendar. As someone who frequently forgets the day, I appreciate that.
However, today's video featuring lingerie model Abbey Clancy is a little less sexy and a little more concerning for my fellow puppy lovers.
In the video, the 30-year-old model walks/rolls around seductively in black leather shorts, a lacy bra and what appears to be a leather conductors hat that I'm pretty sure Christina Aguilera wore in 2006.
I have some questions about the headwear choice, but otherwise, yes, so far the premise of this video seems sufficiently sexy.
Unfortunately, the effect is slightly ruined by the fact Abby is dragging along a poor, confused puppy through the whole thing.
First, Abbey sensually descends some stairs, puppy in tow.
Already, this puppy looks rather worried about her fate, and I don't blame her one bit.
As Abbey disappears into a dark hallway, the puppy looks back at the camera operator, pleading with her eyes to be set free.
But, apparently, the camera operator is a heartless mo-fo because Abbey proceeds to toss the puppy around on a bed.
Eventually, Abbey places the puppy aside (using only one hand, I might add).
The puppy is just left watching Abbey roll around on the bed, like, "Uh, OK, I'll just sit here, I guess, then?"
"You do your thang, girl, just, uh, let me know if you need me for anything else...or..."
"OK, cool, I guess we're just sitting here now. Can I go home yet?"
I just hope that puppy worked for more than a free bowl of Purina and the cost of her commute.
This is LOVE magazine's seventh installment of its advent video series (though the first involving a confused puppy).
Yesterday we got to see Stella Maxwell (of used-to-date-Miley-Cyrus fame) reenact the scene from the holiday classic "Wolf of Wallstreet."
And the day before that, we got Kendall Jenner in a see-through bra.
And let's not forgot the unforgettable Day 1, when Bella Hadid gave men everywhere unrealistic expectations for what women exercising look like.
LOVE magazine sure is capturing the true meaning of Christmas!
Citations: Lingerie-clad Abbey Clancy goes for biker chic in leather and lace as she writhes around in boudoir for latest LOVE Magazine Advent shoot (The Daily Mail)