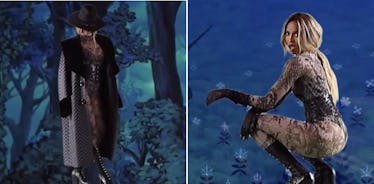 Ciara Stripping Down To A Lacy Catsuit Will Make Your Holiday So Much Warmer
YouTube
Sitting by the fire isn't the only way to feel warm and cozy this holiday season.
If you want your home to feel toasty, project a video of Ciara stripping down to a lacy catsuit on your living room mantel.
The image of her shaking her hips and touching her breasts will make your loved ones more comfortable than ever. Instead of buying gloves for Grandma, give her the gift of Ciara's ass this Christmas.
The 31-year-old singer was featured in Love magazine's video Advent calendar on day 15, and the video is hot as hell.
In the clip, she starts off fully clothed wearing a long coat and hat before she removes both items.
Then, we see Ciara dance in platform boots and a bodysuit while creepy unicorns float around her in the background.
Forget the fire -- you can roast chestnuts off Ciara's smokin' bod.
GIVE IT TO ME, GIRL. MERRY CHRISTMAS, GRANDMA.
Ciara also showed off her sexy suit on Instagram and captioned the pic, "Good morning."
Well good morning to you, too. ;)
The artist -- who is expecting her first baby with husband Russell Wilson -- joined Kendall Jenner, Bella Hadid, Irina Shayk, Rita Ora and Ireland Baldwin in Love's Advent calendar.
Kendall Jenner freed the nip during her sexy shoot...
...while a sweaty Bella Hadid taught us some dirty aerobics.
Irina Shayk covered herself in clay while making pottery...
...and Rita Ora showed off some major sideboob.
Keep it up, ladies. You're doing great!
My personal favorite Love magazine Advent calendar video was when Kendall Jenner dressed up like a shark last year and took a steamy shower.
Please watch that and tell me you don't feel weird inside.
Welp, there are only 10 more days until Christmas... meaning there's plenty of time for things to get just as weird this year.
Can't wait!
Citations: Ciara Love Advent Calendar (Entertainment Tonight)