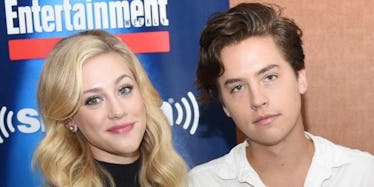 Sorry Lili Reinhart, Fans Are Shipping Cole Sprouse With This Surprising Star
Getty Images/ Vivien Killilea
Look out Lili Reinhart, one of Hollywood's most elite wants to get her hands on Cole Sprouse. Miss Piggy has put Kermit on the back burner and she's ready to mingle with the star of Riverdale. Miss Piggy told Reinhart what's up via Twitter, and even Cole Sprouse had to step in. Lili Reinhart's tweets with Miss Piggy about Cole Sprouse is just about the best thing ever.
On Tuesday, Sept. 26, Reinhart was feeling particularly contemplative. More specifically, about the compelling and long-winded romance between Kermit The Frog and Miss Piggy. Talk about a rollercoaster of emotions over that one, eh? Reinhart tweeted out,
9/26/2017, 9 pm: Dear diary, I'm still thinking about how Miss Piggy walks all over Kermit. And he lets her! It's so messed up, diary.
Miss Piggy caught wind of Reinhart's very public diary entry and decided to bite back the next day, on Wednesday, Sept. 27, and drag Reinhart's Riverdale co-star, Cole Sprouse, into the mix. The muppet said,
@lilireinhart Tell your diary that moi has moved on from walking over the frog. I'm looking for someone new. You got @colesprouse's number?
The best part was when Cole Sprouse decided to jump in. The ever hilarious (and suave) Riverdale star kept it clean and simple with his reply. Sprouse tweeted,
Ladies please
Cole Sprouse is known for being entertaining on social media. Let us not forget the time he posted a throwback photo of him with his twin brother, Dylan Sprouse, and a young fan. The twist? The blonde girl looks identical to Sprouse's Riverdale co-star, Lili Reinhart. After Sprouse put the picture on his Instagram story, he tagged Reinhart in the next post and added several question marks.
Unfortunately, the girl in the photo is definitely not Reinhart. Womp, womp. A fan named Anna-Laura gushed on Twitter that she made it on Sprouse's Instagram story. This led people to wonder if she was actually Lili Reinhart's long-lost twin sister. Also, no. It turns out Anna-Laura met the twins while they were filming a jet-ski scene at a lake near her home.
Reinhart and Sprouse have had strong relationship rumors circling about them for quite some time. The on-screen romance between Jughead and Betty on Riverdale is so powerful, fans have been shipping them basically forever — if we dream hard enough, right guys? Sprouse and Reinhart even won Choice TV Ship at the Teen Choice Awards this year.
Sprouse has made it very clear he is not interested in publicizing his personal relationships. He told Elle in July,
I am one of those guys that's never ever going to talk about my private life with the public sphere. I mean people can talk about the Jughead as much as they want but when it comes to the personal relationships, I have spent much of my life separating work and play so I will continue to do so.
OK, but what about telling us just a little? I think the badgering worked because Sprouse has clued fans in a bit since that previous statement.
During an interview with Entertainment Weekly for the Fall TV Preview cover shoot, Sprouse said,
Since the show began, people have wanted Lili and I to be together. People have wanted Lili and Camila to be together. People have wanted KJ and I to be together. People have wanted every actor on this show to be in a union that they could make real … Truthfully, it's very pleasing that people talk about Lili and I in that way because it means that we're resonating so strongly that people really want that to be true.
As always, Sprouse did not confirm or deny anything. Fans can still hope, right? Even if Sproushart isn't a thing, Jughead is AND I CAN'T WAIT TO SEE WHAT HAPPENS IN SEASON 2.
The show resurrects for its second season this October. The CW has been teasing fans with various Riverdale Season 2 trailers that looks INTENSE. Based on the trailer, this season is going to get freaky when it premieres on Oct. 11 — just in time for Halloween.
As for Miss Piggy, I think Cole Sprouse has his hands full at the moment. Maybe try the Teen Wolf cast?
Check out the entire Gen Why series and other videos on Facebook and the Bustle app across Apple TV, Roku, and Amazon Fire TV.