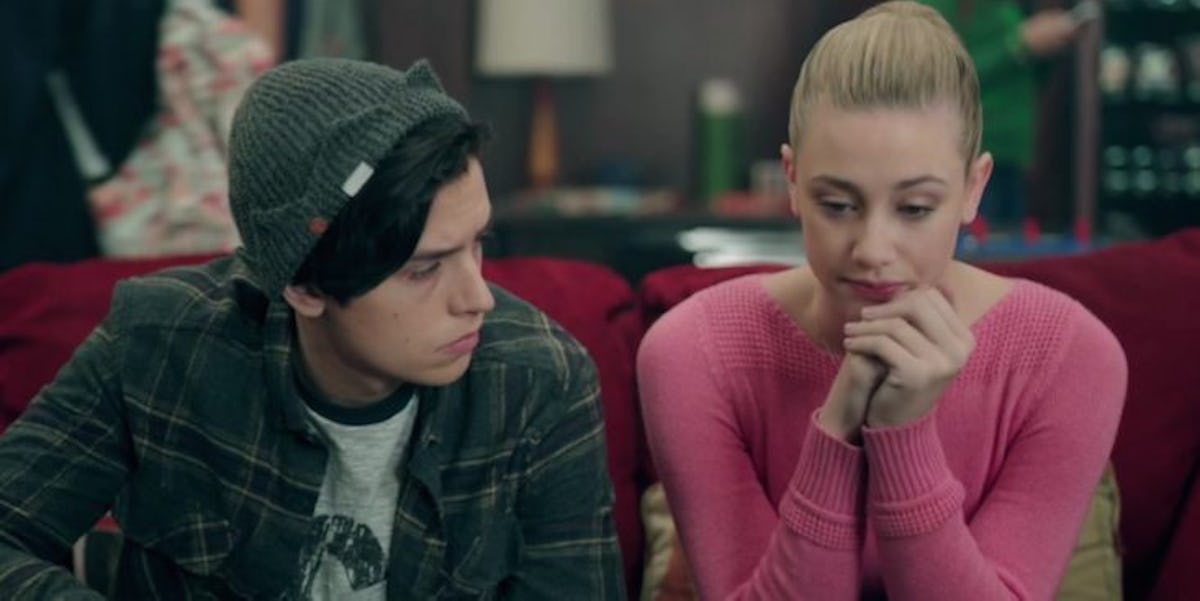 Cole Sprouse & Lili Reinhart Dating Rumors Are Finally Addressed & It's About Time
CW
Are they or aren't they? Aside from "who shot Fred Andrews?," Riverdale fans have had a huge question on their minds. Bughead loyalists everywhere were delighted when gossip began to swirl indicating that the actors behind their beloved character couple were linked romantically off screen. Are Cole Sprouse and Lili Rienhart dating? The man behind Jughead Jones himself finally addressed the rumors about the cast's relationship status.
The cast of Riverdale was interviewed for Entertainment Weekly's Fall TV Preview and (in an excerpt reported by Just Jared) Cole weighed in on how the fandom affects their personal lives, saying,
Since the show began, people have wanted Lili and I to be together. People have wanted Lili and Camila to be together. People have wanted KJ and I to be together. People have wanted every actor on this show to be in a union that they could make real…
So, is #Colehart a thing? The stars have reportedly been spotted out together and since the news of their potential relationship broke, naturally fans have been bugging (or Bugheadding?) out ever since. Sprouse continued,
Truthfully, it's very pleasing that people talk about Lili and I in that way because it means that we're resonating so strongly that people really want that to be true.
The rumors have not been confirmed, but that doesn't mean social media doesn't fuel the fire. Cole, perhaps trolling the life out of us, recently posted a throwback photo to his Instagram story that featured a young fan who happened to look suspiciously like a baby Lili.
The pair isn't shy when it comes to posting about one another. Sprouse, who is quite the impressive photog, has a few memorable shots of the talented lady behind Betty Cooper up on his gram.
And Lili has made it clear she's got love for her co-star. Although, to be fair, a scroll through her social media reveals she's pretty tight with everyone.
It appears that the cast is super close, so naturally the rumor mill has been spinning ever since the show first premiered. Skeet Ulrich, who plays Jughead's dad, even remarked on their "great chemistry" last month. "It seems like it. It seems like it, yeah," he told Entertainment Tonight when asked if they have "special connection." "You just hear them talking to each other like they've been best friends for 20 years. So it's a good sign."
Riverdale is returning for Season 2 in October and while we don't know about Lili and Cole IRL, we do have some insight into the fact that Bughead is in trouble. EW's interview went deeper into their their romantic future. Producer Roberto Aguirre-Sacasa revealed that Jughead goes on a pretty dark journey and that's the tension in Betty and Jughead's relationship." Reinhart says that their story "might tear some people's hearts out" and she likens the drama's narrative to "Romeo and Juliet." Yikes. Maybe a civil war really is coming to Riverdale.
Teen dramas have a history of making real-life love connections, so if Lili and Cole are dating it wouldn't be new TV's social history. Rachel Bilson and Adam Brody (The OC's Seth and Summer), Blake Lively and Penn Badgley (Gossip Girl's Serena and Dan), Chad Michael Murray and Sophia Bush of One Tree Hill, and Gilmore Girls' Milo Ventimiglia and Alexis Bledel A.K.A. Jess and Rory are members of the club. Whether Lili and Cole are dating or just buds, we're glad to know he's "pleased" that fans ship them so hard. We hope this is just the beginning of a long-lasting relationship, off and on screen.