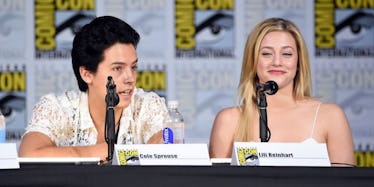 Cole Sprouse and Lili Reinhart Reportedly Went On The Cutest Movie Date Ever
Mike Coppola/Getty Images
Ah, to be young, beautiful, famous and in love. Riverdale co-stars Cole Sprouse and Lili Reinhart have been dating each other and the world is kind of exploding about it. I mean, how often do co-stars actually fall in love, and then GO ON REAL DATES? Ever since the duo was spotted cozying up at Comic-Con, it's been one big whirlwind for their fans. Now, Cole Sprouse and Lili Reinhart's movie date has our attention, despite their efforts to be low-key about it. 
Elite Daily reached out to both Sprouse and Reinhart's teams for comment, but did not hear back by the time of publication.
E News! reports that the pair caught a flick in Vancouver, Canada, over the weekend while taking a break from filming. A source says that Lili's mom, Amy Reinhart, and one of her sisters were also in attendance. The gang checked out the – can I say ridiculous? Ridiculous – film Baby Driver on July 28.
An eyewitness said,
Lili and Cole sat beside each other. There was no PDA but they did whisper to each other and laughed during the movie — they were in a happy mood.
While they made it through the film, the source mentioned that by the end of the movie, the public had caught on that there were stars among them. The source said, "After the movie, they rushed outside because it was getting chaotic. They were getting recognized."
Still, Sprouse being the forever gentlemen, paused to snap a photo with one lucky fan.
Despite the obvious OMG REAL-LIFE LOVE, both Reinhart and Sprouse have yet to admit their romance publicly. Sprouse even told MTV news they were "strictly in the friend zone," but we are calling that bluff. Plus, there was that whole thing when Sprouse photographed Reinhart in black and white, floating in a field, with a pretty intense caption.
Sprouse wrote,
That crow is clicking at us, can you hear it? The wind is so strong, the bird is practically hovering. They say time moves faster for corvids. Years and decades are seconds and minutes to the black bird. That's why they click, to see if they can match our clocks. It's true! Shame it should be hovering, it must be so confused. Motionless and untethered by time. Don't worry for the crow, in mere moments it'll all pass. In mere moments this will just be one of many clicks had
Nope, I don't know what it means or where it comes from either, but I will make a wild guess and say these two are in l.o.v.e.