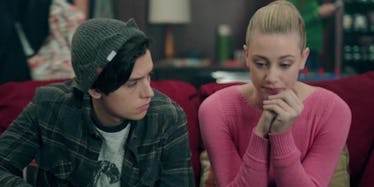 The Latest 'Riverdale' Season 2 Spoilers Are Breaking Our Bughead Hearts
CW
If you are one of the many Riverdale fans shaking in your crown beanie about the fate of our beloved Betty and Jughead, well -- we don't have very good news to share with you at the moment. Sorry, guys. Everyone wants to know what the fan-favorite duo will be up to in the upcoming episodes, and according to the latest Riverdale Season 2 Bughead spoilers, the prognosis is grim.
Showrunner Roberto Aguirre-Sacasa, never one to keep too quiet about what lies ahead for the gang (thank you, Roberto!), recently spoke to TV Line about the new season, and his remarks only solidify the fact that these two lovebirds will not have it easy:
It's almost like every force in the universe is out to pry Bughead apart.
Say it ain't so... Riverdale isn't exactly a hotbed for small town normalcy and sound situations (see: maple syrup drug front, incest, basically everything else), but it would be awesome to watch Betty and Jughead live happily ever after or at least somewhat drama-free. Yeah, right. And it's not like they're the only ones who aren't shielded from further threats. Archie and Veronica are in for some obstacles ahead. "There are going to be problems coming in multiple different directions, besieging both of our couples," Aguirre-Sacasa explained.
Is nothing sacred?
One of those "problems" looks like it will be the addition of fresh Riverdale face, Toni Topaz (Vanessa Morgan). Toni is a Southside Serpent gang member who is definitely going to shake things up, especially when it comes to Bets and Jug. Morgan recently revealed that her mysterious character is "one of Jughead's first friends from Southside, and she might cause a little bit of trouble for Bughead… but she's super interesting, she's super fun, and I think she's gonna bring some excitement for the Bughead fans." She also added that there "might be a little love triangle there..."
We know this is a lot to take for the Betty Cooper and Jughead Jones fanatics, but Vanessa admitted to Glamour that "she's already had some death threats," despite the fact that nothing has even aired yet. Not cool at all. We're looking forward to seeing what Toni Topaz will bring to the table (whether she'll literally be sitting at a table at Pop's is unclear), even with all those buzzy Bughead fears.
Season 2 of Riverdale is already looking like it's going to be chock full of dramatic intensity, of course. The trailer showed a glimpse of Archie pulling out a gun -- OMG -- which obviously leads us back to that Fred Andrews getting shot cliffhanger, which shocked everyone. And Toni Topaz isn't the only newbie coming to town. Hiram Lodge will get his IRL introduction, in the form of actor Mark Consuelos. And Ronnie's former NYC flame Nick St. Clair is also coming to make some trouble. According to EW, Roberto Aguirre-Sacasa revealed the "old classmate" is "a hard-partying Lothario with dark desires and an unchecked sense of privilege. His arrival in Riverdale will threaten Archie's relationship with Veronica, and may even put some of our characters at risk."
It's no secret that fans should expect a more sinister Riverdale for Season 2. Lili Reinhart divulged that it "focuses a lot on dark Betty," so get ready. And if Aguirre-Sacasa's tweets are any indication, relationship problems probably aren't the only hazards lurking in the shadows.
Bughead, we're rooting for you, but it does seem like the writers do have other plans... Sigh.