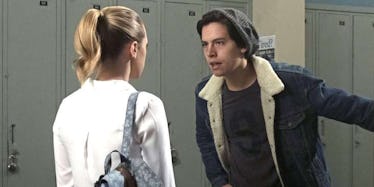 'Riverdale' Actress Is Getting Death Threats From Fans Who Think She'll Split Up Bughead
CW
One new Riverdale cast member joining the show for Season 2 is not exactly getting the warmest welcome from fans. Vanessa Morgan will be playing Toni Topaz in the new season, and will apparently be a big part of the story. But some fans of the show aren't excited about how Toni will be shaking things up with the main crew — specifically, she might be breaking up the fan-favorite couple of Jughead and Betty. Hardcore Bughead fans are so upset, the new Riverdale actress is getting death threats already, before even appearing on the show!
Vanessa Morgan revealed the fan animosity she's already encountered in a new interview with Glamour. Morgan had already revealed Toni Topaz will be a Southside Serpent, a member of the gang that Jughead joins at the very end of Season 1, and is Jughead's first friend in the rough new crowd. Morgan also teased that she might cause some friction in Jughead's relationship with Betty, and introduce a love triangle.
Of course, Bughead shippers didn't love that last detail. Over the first season, the relationship between Betty and Jughead became a favorite among fans — even leading to romance rumors in real life between Cole Sprouse and Lili Reinhart. Vanessa Morgan said that the Bughead fans were quick to send her hate when her character was announced.
I've already had some death threats. But the thing is, it's half death threats because they don't want that [actually] happening, and there's half that's just all love. Who knows if [my character coming between Bughead] is even going to happen. People are just jumping to conclusions.
Hopefully fans will settle down once Riverdale returns for its second season on Oct. 11, and grow to love Toni Topaz. Morgan also shared that her character will be bisexual, which she said she's excited to portray. We'll finally meet Toni officially in a little over a month.