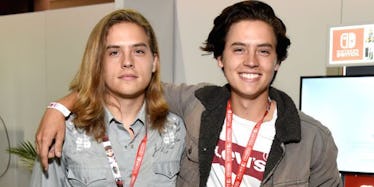 Dylan Sprouse Is Returning To Acting And Cole Sprouse's Reaction Is Hilarious
Michael Kovac/Getty Images for Nintendo
Both of the Sprouse twins are officially back in Hollywood, people. Dylan Sprouse is returning to acting following a six-year TV/film hiatus that started after The Suite Life On Deck wrapped back in 2011. And as we all well know by now, Cole Sprouse has been starring on The CW's newest hit Riverdale as the emo and brooding Jughead Jones. Both of the Sprouse twins are back on the big screen and not just trolling each other on Twitter. What a time to be alive.
Dylan is starring in an upcoming indie film called Carte Blanche, directed by Eva Doležalová. The director has been posting pictures of Sprouse on Instagram, and Sprouse has been posting his own pictures on his Instagram story while filming. Carte Blanche only just started filming, so there's no trailer just yet. But some of the cast members reportedly include former Victoria's Secret model Suki Waterhouse and Jack Kilmer, Val Kilmer's son. During his hiatus, Sprouse graduated from NYU, voiced a video game character, and opened up All-Wise Meadery in Brooklyn, NY.
No one had a better reaction to Dylan Sprouse returning to acting than Cole Sprouse. In a tweet, Cole asked his twin to return some other things while he's returning to his acting career. Cole said, "Hey can you return my f*cking t-shirts too?" And Dylan responded, "I don't wear them, I use them as toilet paper." Lmao.
CAN YOU FEEL THAT BROTHERLY LOVE? AND ALSO THAT PETTY SIBLING FIGHTING WE ALL KNOW AND LOVE? This is exactly how I interact with my younger sister, so this is everything to me.
Dylan and Cole Sprouse have some of the best accounts on Twitter, honestly. Even before Cole gained all of his Riverdale popularity, fans had been loving his tweets for years. The same goes for Dylan. These two are just genuinely hilarious.
The Sprouse twins are committed to each other.
No one can beat their trolling game.
Seriously, no one.
Welcome back to Hollywood, Dylan. And now, to The CW, please take this as my official petition to have Riverdale reveal that Jughead Jones has a secret evil twin. If introducing Sabrina The Teenage Witch onto Riverdale is a realistic option for you, then a soap opera-like evil twin plot twist is DEFINITELY possible. I'll wait.