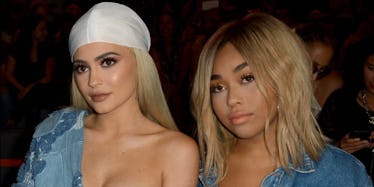 Kylie Jenner On Her Friendship With Jordyn Woods: We "Disagree Sometimes"
Getty Images/ Gustavo Caballero
Kylie Jenner and Jordyn Woods are seriously the cutest BFFs. They both have the best style, eat lots of Dippin' Dots, and seem like an overall good time to be around. Kylie Jenner and Jordyn Wood's friendship is definitely super special and goals AF. However, since they are together all the time, obviously some disagreements must occur. I mean, they just have to... right? Well, sort of.
On Aug. 27, Jenner and Woods took to Snapchat to answer some fan questions submitted via Twitter. When the question came up asking if they ever fight, both coyly smiled and nodded. Jenner said,
Of course we disagree on things, but I don't think we've ever had a real fight.
Woods agreed and added,
We don't argue... but we do disagree.
Even though Woods admitted "it's draining sometimes being Kylie's best friend" in a teaser for Life of Kylie, these two have nothing but love for each other. They spend tons of time together and seem to always be attached at the hip. When asked if they still have sleepovers, Jenner and Woods started speaking with accents and said,
Yes we do. Every night 'cause we live together.
After the Snapchat session, Jenner and Woods went to get some well-deserved Dippin' Dots. For those of you wondering (you know who you are) — Woods gets cookies and cream and Jenner gets banana split. Honestly, all the Dippin' Dots in my hometown closed, so glad to see they're still doing well.
Jenner and Woods never smile in photos, so I sometimes forget they're actually super funny. Besides goofing around on Snapchat together, these two are constantly laughing and talking about inside jokes that the rest of us don't understand.
Perfect example: Woods helped throw Jenner's epic birthday party when she turned 20 on Aug. 10. Woods was in charge of getting the cake. She topped it with a silly picture of Jenner and the caption, "LOVE YOUR PHAT P*SSY." I don't know why and I don't understand the joke, but I freaking love it. Keep doing you, ladies.
Overall, Jenner and Woods shared some enlightening things on Snapchat. Jenner still has freckles and Woods has not yet designed her own Kylie Jenner Lip Kit color. While I'll probably never break into their inner circle, I will continue to be the awkward person who stands on the outskirts laughing at jokes I don't understand. LOL, neat.