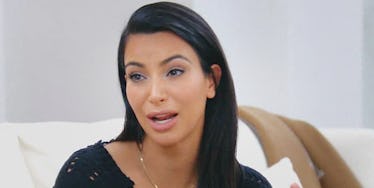 'KUWTK' Has Officially Stopped Filming And Kim Kardashian Is 'Rethinking Everything'
YouTube
There's no doubt this year has tested the mental stability of the Kardashian-West family, and they won't be ready to step back into the spotlight any time soon.
In fact, "Keeping Up with the Kardashians" will stop filming for the rest of the year, and possibly even longer, according to TMZ.
It's a bummer, I know.... but can you blame the poor family? Between Kim's tragic robbery and Kanye's "psychotic breakdown," this year was freakin' apocalyptic for them.
According to sources, after Kanye West's recent hospitalization, the show's production shut down despite original plans to film throughout the holidays.
Apparently, Kim's worsening state of mind post-robbery was also a deterrent to continuing filming in the upcoming months.
TMZ reports Kim has been "rethinking everything," although sources gave no further elaboration.
However, the show's producers do have enough footage for the series they've already begun, so don't get too upset. You'll get your "KUWTK" fill, minus the heartbreaking drama that's plagued the family in recent months.
After Kim was held at gunpoint on October 3, the show's production halted immediately and Kim began her disappearance from social media in an effort to recover.
To make matters worse, Kanye West was hospitalized last week and taken to UCLA Medical Center following an on-stage rant about Beyoncé and Jay Z in Sacramento.
He was reportedly suffering from sleep and water deprivation.
As a result of his anguish, fans began the hashtag "PrayForKanye," with hopes he would recover.
His mental state of mind was so horrific he canceled 21 concerts that were part of his tour.
To make matters worse, he was reportedly "having nightmares" about his wife's robbery before his mental breakdown.
I think it's safe to say "Keeping Up with the Kardashians" can take a break for a little while.
Kim, Kanye and the rest of the fam need as much alone time as they can get to recover from the tragic events that have tainted their year.
Citations: 'KEEPING UP WITH THE KARDASHIANS' PRODUCTION TEMPORARILY SHUT DOWN (TMZ)