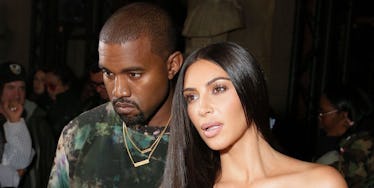 Kanye West Was 'Having Nightmares' About Kim K's Robbery Before His Breakdown
REX/Shutterstock
New heartbreaking details have leaked about Kanye West's November breakdown.
After a traumatic few months for the Kardashian-West family, the 39-year-old music icon was admitted into UCLA Medical Center for a psychiatric evaluation just hours after canceling his tour.
The move comes following a series of odd rants West went on during a few of his "Saint Pablo" tour concerts. At one particular show, Kanye walked off the stage after singing three songs and ranting for 17 minutes.
A source close to the situation has spoken out about Kanye's current mental state, and it does not sound good.
The source tells US Weekly,
He's been shaken up ever since the robbery in Paris. It did a number on him as much as Kim. The mere thought that anything could happen to her sent him in a tailspin. He wasn't sleeping and he was having nightmares about it.
Kim Kardashian, who is in the middle of a social media break, was robbed at gunpoint in her hotel room during Paris Fashion Week. The robbers reportedly tied her up and locked her in the bathroom during the heist before getting away with millions of dollars in jewelry.
The source continues,
He really couldn't do his shows without her around. That's what made him worse. He didn't want to be away from her … [The robbery] was just as hard for him, but he tried to keep going. He would never have canceled the tour unless things were bad.
Kanye couldn't bear to see Kim hurt. The source says,
The robbery triggered everything. Kim is his family and the only family he really has now. They took him in and embraced him. So seeing Kim traumatized did a major number on him.
Kim hasn't abandoned Kanye during this ordeal. The source says that she has been instrumental in helping to nurse Kanye back to his normal state, even sleeping by his side at the hospital and feeding him.
The source ended,
Kim has been amazing. She knew he couldn't keep going the way he was. She has been by his side through all of this.
Our thoughts and prayers are with the entire family during this tremendously difficult time.
Citations: Kanye West Was Having Nightmares About Kim Kardashians Paris Robbery Before Hospitalization (US Weekly)