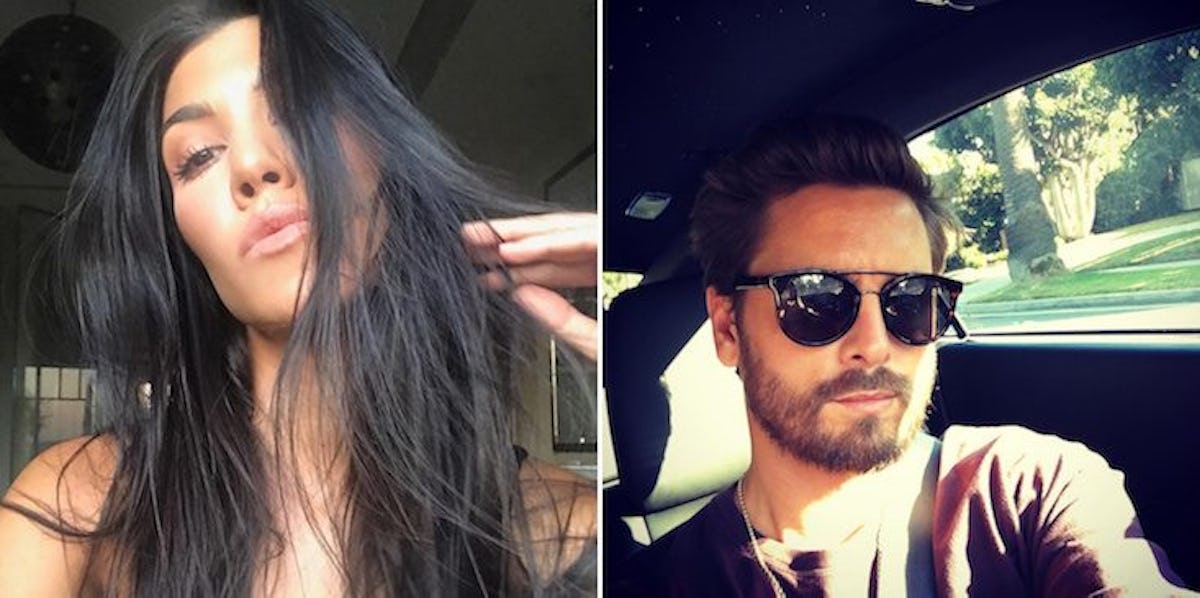 Kourtney K Proves She DGAF About Scott Disick & Sofia Richie With Savage Instagram
Instagram
ENOUGH WITH THE GAMES, SCOTT. The Kardashian fandom is cracking wide open this time, as rumors about Scott Disick dating 19-year-old Sofia Richie float back to the surface. For those of you doing that math at home, Disick is 34 years old, giving him and Richie a grand total of 15 years between them. Plus, there's that whole thing about how she isn't even legally allowed to drink yet, which is basically Disick's Achilles heel. Of course, Kourtney Kardashian's response to Scott Disick and Sofia Richie reportedly dating is just exactly what you think it would be... perfect, savage, oh-so-cool, and involves a glam shot of her backside. Obviously. Elite Daily reached out to Disick and Richie's teams for comment on their rumored fling, but did not hear back by time of publication.
Here's my totally biased, 100 percent non-professional opinion on the whole thing: Scott and Sofia, if you guy's aren't dating or hooking up or whatever, what could you possibly be talking about while you FaceTime, walk arm in arm, get romantic, have expensive dinners and, oh yeah, spend all this time together wearing bathing suits on a yacht?
True: Anyone is allowed to date whoever they want within reason, it's just hard to imagine what a teenage girl and a mid-30's father of three have in common.
A source told Us Weekly,
It's so weird. Not just the age difference, but mostly the fact that Sofia had been a family friend for years, and was close to Kendall and Kylie.
More recently, as the two have been spotted together quite a bit, and a separate source told People,
Since returning to L.A., Scott and Sofia are inseparable. They are spending every day together. Sofia seems smitten... It's obvious that she looks up to Scott. She constantly giggles around him. They are very flirty... Scott takes care of her, opens the car door and pays for everything.
Still, the main girl we care to hear from is Kourtney, and here's what she has to say.
Das it.
She flips her mother-effing hair.
She can't be bothered with the white noise her baby daddy has been packing this summer.
As you guys know, Kourt is smitten with her own baby boy model, Younes Bendjima, and has been living the life this summer sporting bikini after bikini and going on vacation after vacation.
She also has the premiere of Season 14 of Keeping Up With The Kardashians coming up, and has been working on the KUWTK 10th Anniversary Special scheduled to air this Sunday, Sept. 24. Just as recently as yesterday, Kourt tweeted the epic video she and her sisters shot to promote the special, where she is spotted yet again rocking her bathing suit and not giving one little F.
She seems to be doing just fine, thanks.
Plus, how much weight can we really put behind this "relationship" between Richie and Disick, anyway? Disick has been known to act out and use partying with multiple (younger) women as an escape from his troubles. Not so long ago, he was heavily linked to another 19-year-old celeb — Bella Thorne. Got a type, Scott?
It was also confirmed by authorities that Disick was recently hospitalized on what they called psychiatric hold. According to reports, the Los Angeles Fire Department confirmed to Us Weekly that they arrived after a call was made from Disick's home. Someone there was concerned about his mental well-being, and Disick allegedly received medical aid willingly when it arrived. A typical patient on psychiatric hold will be held for up to 72 hours, but Disick was released before then.
In a statement, the L.A. Fire Department said,
On August 18, LAFD responded to a call from the home of Scott Disick. Lost Hills Sheriffs were also on the scene shortly there after. LAFD officials transported Mr. Disick to a local hospital. No other information will be given out at this time.
For now, we hope Disick finds the help he needs and Kourtney continues to keep doing her damn thing.
Check out the entire Gen Why series and other videos on Facebook and the Bustle app across Apple TV, Roku, and Amazon Fire TV.