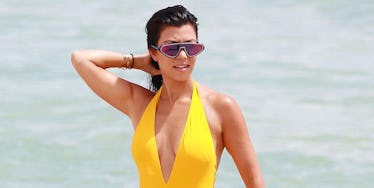 Kourtney Kardashian Posts Raunchy Vacation Pics, Proves She Really DGAF
REX/Shutterstock
Gone are the days when Kourtney K was the...how do I say this...tame Kardashian sister?
If you think her MO of making people eat cauliflower, vegan pizzas and sitting around not smiling is still her thing, THINK AGAIN.
The eldest glam queen sister recently took to Puerto Rico to celebrate her 28th birthday, complete with sister Kim and a gaggle of equally tan, contoured brunettes in tow.
Since their arrival, Kourt-Kourt has posted a flurry of sexy, provocative (and dare I say funny?) Instagram posts baring her INSANE bikini body and having a blast with her gal pals.
Safe to say, Kourtney looks damn good.
Lately, her favorite ASSet (had to) has been her stupid, perfect butt.
 Seriously, she's kind of obsessed with it.
GUYS, LOOK HOW MUCH FUN SHE'S HAVING.
Plus, what's a 38th birthday trip without a little/lot of under-boob?
Of course, the biggest question is--who is this mysterious brunette skinny-dipping and rolling around like a sexual goddess in a weirdly shallow pool?
Kourtney does caption the video "when your friend stay naked," which if we're using deductive reasoning, we can probably assume that means it's a friend of her's and not Kourt herself.
Plus, Kim tweeted the glamorous debauchery pointing her finger at Kardashian friend, Britt Gastineau.
To which Britt was like, "Hey Kim, get your facts straight. It was only HALF a day that I was missing!"
The point is you guys, ain't no party like a Kourtney Kardashian 38th birthday party.
Now, everyone stand in front of your mirror and say "Hi, Doll." three times while eating a cauliflower pizza crust, and with any luck you'll be blessed with a body just like Kourt's.
But ya know, not necessarily after having three children. Just, like, now would be fine.
Happy birthday, Kourt! You're my hero.
Citations: Kourtney Kardashian Posts Naked Video During Wild Birthday Vacation (US Magazine)