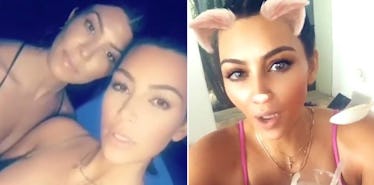 Kim Kardashian Live-Tweeted Kourtney's Birthday Party And The Details Are Insane
Snapchat/Twitter
Kourtney Kardashian turned 38 on April 18, so naturally, it only makes sense that one week later the mom of three would still be celebrating.
I mean, seriously, you only turn 38 once, right?
Last week, she took to Instagram to say she had "the best birthday ever," alongside a selfie at Disneyland.
But it appears the fun was really just getting started as the oldest Kardashian sister jetted off to Punta Mita, Mexico, with sister Kim Kardashian and several of her closest friends. This birthday fun was a lot less kid-friendly and a lot more college spring break-esque.
At first it appeared the reality stars were there to relax, soak up the sun and flaunt their gorgeous curves in tiny swimsuits...
...but last night Kim K decided to give us a lot of insight into what a proper 38th birthday trip to Mexico is really about.
What would we do without Twitter?
This sounds a lot more like something Scott Disick would do on his birthday trip...
Twerk with caution, ladies.
No one has ever spiked anything to get me to NOT eat it, but OK.
Luckily, Kim is above giving into fat-shaming.
Apparently things started to get interesting as the night wore on...
Uh, was anyone looking for her?
Are you sure you didn't have just one bite of the brownie, Kim?
Hrush Achemyan is a makeup artist for the Kardashians/Jenners... but the twerking lessons might be more valuable.
Then, the sex toys were brought out, naturally.
Why is that all you will say? Say more, please.
So she hasn't forgotten about Kanye while with the girls.
For some reason this doesn't surprise me in the slightest. Video, though?
Is anyone else concerned that Mason, Penelope, Reign, North and Saint are going to be so scarred by these tweets one day?
Hey Kim, maybe you should let the professionals stick to taking the photos?
Ahhh yes, the videos you've been promising.
Of course.
Does this mean Kourtney was thinking about the Biebs when she fell asleep?
All I can say is I'm going to need to see more video footage. Oh, and maybe someone should check on them this morning.