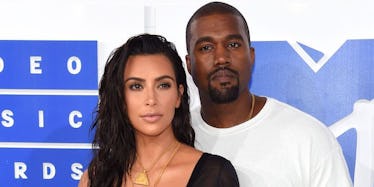 Kim K Explains If Her Fashion Sense Is Better Or Worse Than Kanye's & TBH, We Agree
Jamie McCarthy/Getty Images
Kim Kardashian and Kanye West are both fashion icons. Most of the time, I don't even understand what they're wearing — but I know I need it. I think we all need a little Yeezy in our lives from time to time. When you think about Kim Kardashian and Kanye West's fashion sense, the words iconic and chic come to mind. That's why it was surprising who Kim K thought had better style between her and her hubby.
Kardashian was on the premiere of Ellen DeGeneres' new YouTube show, Ellen's Show Me More Show. Kim was there to answer Ellen's "burning" questions. Literally, the background was flames. Nice touch, DeGeneres.
When asked who has the better fashion sense between her and West, Kardashian said,
I mean, natural fashion sense, probably him. I think I've learned to grow into it and learned to really love fashion. I'd say it's like a tie now.
OK, I can totally agree with that. I mean, West has launched a successful fashion line and has a very distinct personal style. However, Kimmy always looks flawless. Sooooo it just has to be a tie. Actually, West may be an inch or two ahead. Mostly because I love West's hilarious tweets about fashion. While his fashion shows may be controversial in whether people love or hate them — West always makes a statement. He followed up his four-hour Yeezy Season 4 show with just a 13-minute show for Yeezy Season 5. AND WE ALL LOST OUR MINDS.
Either way, that must've been a tough question for Kardashian, who literally lives and breathes fashion. Kardashian definitely views herself and West as equals. She also said that she listens to West's song "Amazing" every single day because it's North's favorite. Marriage goals AF.
I don't understand what it is about Ellen DeGeneres, but celebs will literally answer any question she asks.
Ellen asked a series of burning questions about a plethora of different topics. Honestly, Kim revealed some surprising things about herself. When asked about a high school secret that she kept from her parents she said,
I used to cheat on all of my tests and we would wear uniforms so I would wear this little skirt... I would flip up the skirt and write all of the answers in like washable ink. And what is the teacher gonna do? Ask you to lift up your skirt? Like sexual harassment.
Very sneaky, Kimmy. North and Saint are seriously not going to be able to get away with anything when they're older.
Kardashian revealed a lot about her younger days including her first celebrity crush — Johnny Depp. Solid choice for sure. Kardashian started the interview by saying she was an "open book," so Ellen snatched the opportunity.
As far as her favorite body part, Kim said her "upper stomach" and clavicle area. At least, I think she was referring to her clavicle. She gestured kind of around her neck and sternum, maybe? I feel like I need an anatomy textbook.
One answer that surprised me was Kim's style icon. I follow her closely on social media so I should've been able to guess, but her answer was Cher. Kim said,
My dream of life would be to look in her closet one day and just... I would die.
Cher is the queen.
Kardashian laid down some seriously agreeable answers. She said she would want Kylie to play herself in a movie about her life. YES, THAT WOULD BE AMAZING.
I really enjoyed this lightning round of questions for Kim Kardashian. Her answers were unexpected, and I learned some cool stuff. Knowledge is neat — stay in school, kids.
Check out the entire Gen Why series and other videos on Facebook and the Bustle app across Apple TV, Roku, and Amazon Fire TV.