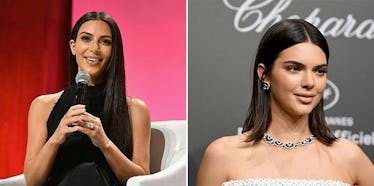 Kim Kardashian Just Told Kendall Jenner What We Were All Thinking About Her Pepsi Scandal
Slaven Vlasic/Getty Images/Pascal Le Segretain/Getty Images
Now that time has passed and the dust has settled on Kendall Jenner's controversial Pepsi ad, we're finally getting some insight from the Kardashian clan about that, erm, very unfortunate career move. A preview for the upcoming season of Keeping Up With the Kardashians features Kendall Jenner's reaction to her Pepsi ad – along with some very wise words from Kim. Namely, that Jenner should never have done the commercial in the first place.
For those of you who may have missed (or have since blocked out) Jenner's Pepsi ad from April the premise revolved around a gathering that looked eerily similar to a Black Lives Matter protest, along with some very stern cops standing on the sidelines. Jenner leaves a modeling gig and weaves her way through the protest, and hands a Pepsi to one of the cops, who then drinks it, smiles and everyone starts celebrating because the soda managed to solve ALL of the difficult, painful issues being fought over. Woot woot.
Obviously, there was a huge backlash after the ad aired, with arguments that Pepsi was trivializing BLM and other social justice movements – along with being completely exploitive of people's real struggles. Pepsi pulled the ad, and released a statement expressing regret, while sending their apologies to Jenner.
We did not intend to make light of any serious issue. We are removing the content and halting any further rollout. We also apologize for putting Kendall Jenner in this position.
So, what did the model in question think about all of this?
During a KUWTK preview shared by E! News on Sep. 1, Jenner talked about the fallout from the ad, saying, "it feels like my life is over."
Kardashian responded by stating what the whole world was thinking: "You made a mistake."
Yup, you make those truth bombs rain, Kim K.
This isn't the first time that Kardashian has spoken up about the controversial ad. During an interview with Andy Cohen on Watch What Happens Live, the reality star said that Jenner felt "awful" about the whole situation.
I think any time someone does anything they don't have bad intentions — especially Kendall, who's so sensitive. She would never mean for anyone to perceive anything in a negative way.
That's fair enough. Obviously, it was a terrible decision all around, but everyone makes mistakes. Of course, most of us don't have to deal with our slip-ups so publicly, or have the luxury to then sulk in bed for a few days, wallowing in private humiliation.
On another note, how cool would it be to have Kim Kardashian in your corner at all times? She'll give it to you straight, be your spokesperson when you screw up and — if all else fails — release secret recordings from your enemy when they're in the wrong. #SisterOfTheYearAward.