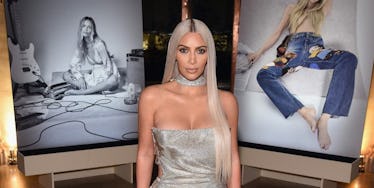 An All-New Kim Kardashian Perfume Is Coming, But Even Kim Is Confused About The Scent
Getty/Bryan Bedder
Between Rihanna's Fenty Beauty, Kylie Jenner's Kylie Cosmetics, and Kim Kardashian West's KKW Beauty, you could say there's currently an all-out battle in the world of celebrity makeup lines. It's like we as consumers are the collective Bachelorette, and celebs are the male contestants desperately competing for our attention. Since launching last week, RiRi's Fenty Beauty has been receiving alllllll the roses, like a warehouse's worth of roses, from fans lapping up the line's record-breaking inclusive shade range. Never one to be overlooked or outdone, Kim has responded by teasing an upcoming product launch, and thereby demonstrating a hefty amount of thirst. Kim Kardashian's new perfume is KKW Beauty's next launch, and in true Kimmy fashion, the reality star announced it with a cryptic Instagram post.
Not so true to form? Her face and body are nowhere to be seen in the snap. Kim went artsy and subtle by posting a close-up photo of Millennial pink flowers and tagging @KKWFragrance, a brand new Insta account. From this, one can gather her new fragrance will be produced in conjunction with KKW Beauty, her newest beauty venture, and not with her previous line of four fragrances. The original caption read "Gardenia," which she has since removed in lieu of blank space. While it's certainly a pretty shot, fans and foes reacted passionately to the previous caption, because the flowers pictured are not gardenias.
Oops. The picturesque blooms are actually orchids, and fans took no mercy in pointing out the mixup to Kardashian. "Those are beautiful orchids. Not gardenia. The smell shape and time of bloom are different. I love them both," wrote one kind fan on Twitter. "Those are orchids fool," added a less encouraging commenter on Instagram. "Queen of not knowing flowers," another piped up, although I'm sure Kim has been called the queen of worse.
So what do gardenias and orchids smell like, anyway? Gardenia is a white floral, similar to jasmine, and tends to add warmth and sweetness at the base of a fragrance. Orchid is a more exotic, fantasy note, open to interpretation. While a gardenia is a gardenia across the board, orchids' scents differ depending on which insects pollinates them, resulting in a huge range. Therefore, if a perfumer names an 'orchid' note in a fragrance, they are mostly just making it up.
KKW Beauty's first launch enjoyed massive success, drawing inspiration from the founder's famously sculpted cheekbones. Back in June, the brand introduced cream and powder contour kits that sold out immediately. With it's chic packaging and minimalist, neutral-colored advertising campaign, KKW Beauty's design is generally more sophisticated than Kim's preceding fragrance line, which was kinda all over the map. She already created four scents (Glam, Gold, True Reflection, and Signature), and their names and packaging have a bit more of a mall-store, cheesy vibe. While we currently don't have any additional information on the new aroma, I predict KKW Fragrance's iteration will be fresh and refined, with light-colored packaging upholding KKW Beauty's aesthetic.
This isn't the first time Kim has hinted at her olfactory ambitions, as the mogul announced her perfume plans at the Forbes Women's Summit on June 13. During a discussion of  KKW Beauty, Kim dropped the scent bomb: "I'm launching a fragrance at the end of the year. Every last detail from the box, to the packaging, to being in the factory, and feeling every packaging detail … I'm a hundred percent involved in and that's so prideful for me." Of course, the process of producing your own perfume is certainly something to be prideful about.
Looks like it's a little confusing, too.