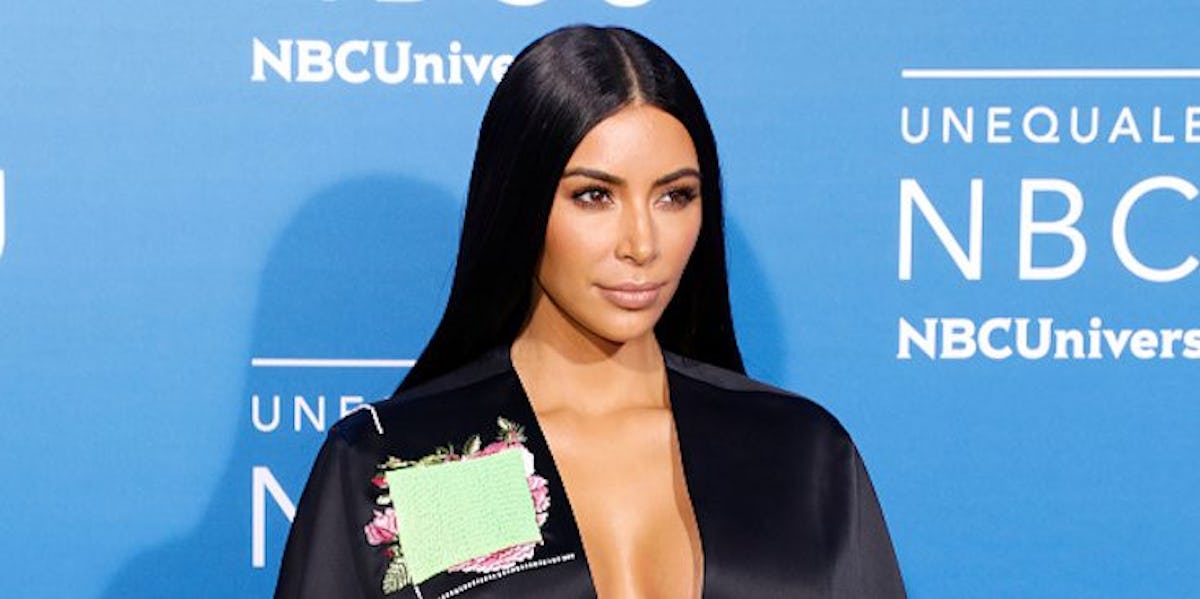 Kim Kardashian Dyed Her Hair Again And It's So 'Game Of Thrones'
Taylor Hill/Getty Images
Whenever a member of the Kardashian/Jenner squad posts a picture to social media, skeptics question its authenticity: Is her waist line actually that tiny or is it Photoshopped? How much of her lips are drawn on? And finally, is Kylie, or Khloe, or Kim Kardashian's new hair for real? Between 72-day marriages and Kylie's fondness for neon-colored wigs, fans have been through a lot of fake outs. And because every member, from Kendall to Caitlyn, experiments so much with beauty and fashion, it can be difficult to recognize when a member of the famous family actually commits to an aesthetic change. So naturally, when hairdresser Chris Appleton posted pictures of Kim at New York Fashion Week with a peculiar hair color, the internet was totally righteous in wondering, "Did Kim Kardashian dye her hair blonde?"
Internet, I hear you. Your concerns are valid. But Elite Daily can confirm that in addition to Kim reportedly having a new baby girl, the reality star has a new hair color. The 36-year-old is not wearing a wig, and has indeed had her hair colored a silvery, ashy blonde, not too dissimilar from Game of Thrones' Khaleesi. Beyond taking Kimmy to a platinum, bleached out blonde shade, Appleton (whose clients include Jennifer Lopez and Ariana Grande) also chopped long layers into her chest-grazing hair. While the new hue is not a drill, diehard fans will recall that this isn't the first time Kim has experimented with light locks.
Still, the photos of the newly-silver star have the internet shook. While Kim flirted with blonde hair in 2015, the experiment didn't last for long. This time, it seems more thoughtful and deliberate. "Taking Kim blonde was something we've been talking about for a long time," Appleton told ELLE.com. "It was a great transition from the super-long, Cher-like look Kim has been wearing since last year in Paris. We wanted a drastic change, so we went platinum blonde."
Here's the look from the front:
And again from the side:
Damn, and in the midst of New York Fashion Week? I'm already wondering if this has something to do with Kanye West's now-canceled Yeezy show or KKW Beauty's powder contour kits restock. Someone had to bring attention to the power couple, and Kim's drastic hair change-up is sure to have everyone keeping up with the Kardashians.