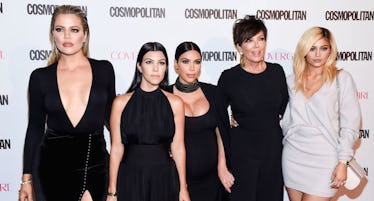 Here's How Much The Kardashians Have Changed One Year Since Lamar Odom's Overdose
REX/Shutterstock
Wow, what a year it's been for the Kardashians.
Exactly one year ago today, October 13, Lamar Odom suffered a series of strokes inside of a Nevada brothel. His family, which primarily consisted of the Kardashians at the time, rushed to be by his side before he was transferred to an LA to begin his long road to recovery.
Almost exactly a year later, Kim Kardashian was held at gunpoint in a Paris hotel bathroom, officially marking the end of the Kardashian family's fiscal year.
If there's one thing I've learned about this family, it's they don't really operate according to any mainstream calendar system. Their year sort of starts whenever a massive scandal happens and then ends a few months later when an even bigger scandal happens.
AKA: The Caldashian New Year.
Now that the dust is settling in Calabasas after Kim's robbery, I think it's time to do a quick recap on this Caldashian year with social media's first family.
Kendall Jenner
It's been a fairly standard year for the elder-Jenner. Her steady rise in the modeling world continued, checking off the standard boxes that professionally tall, hot women need to check off to become the tallest, hottest most professional woman in the industry.
She got the Victoria's Secret runway show, she got a Vogue cover and she even moved into a new house.
She also showed her nipples a ton and beefed with Abby Lee Miller, "Dance Moms" Czar.
Big year.
Khloé Kardashian
Khloé's Caldashian rotation can really be divided into three sections:
Dealing with Lamar. Dealing with her book. Dealing with nothing.
After Odom was admitted to the hospital, Khloé was there for him. Her whole family joined, obviously, but she really stuck by him through all of his early rehab days.
They weren't together, though. As murky as their actual legal marriage is, their literal romantic relationship is non-existent. She filed for divorce again in May and has been very clear she's been there for Lamar solely as a friend.
After a while, her book came out and her ascent into the world of lifestyle guru-ing became complete. She's actually sort of transformed herself, brand wise, into a more... aesthetically... uhhhhh... physically... more....
She's hot.
This year was the year we all realized Khloé Kardashian was bonkers gorgeous.
Then, nothing new really happened. She was briefly linked to Trey Songz before started dating Tristan Thompson, who is arguably the most boring NBA player to date. Aside from that, it's been a quiet past few months for her.
Kylie Jenner
Kylie became a business magnate during the last Caldashian year.
Kylie's Lip Kits are nothing short of a cultural revolution that has even brought google analytics to its knees. I don't even think the concept of "lip kits" were a thing before Kylie found a way to sell them.
With added cosmetic pun-based brand extensions (I'm looking at you, whoever came up with the name "KyShadow") and a riot-inducing foray into clothing, it's clear this year Kylie stepped up as the future breadwinner of the family.
In regards to her personal life, she's still dating the father of her sort-of nephew.
Kim Kardashian
A billion things happened to Kim because a billion things ALWAYS happen to Kim.
She's the kind of person who always has something massive linked to her, so for the sake of not turning this into an entire encyclopedia set, let's just focus on the three major events.
First off, SHE HAD A BABY! Saint West joined the Kardashian universe and instantly was a bigger deal on social media than everyone you know combined.
Then, Kim's true momma bear came out and she utterly destroyed Taylor Swift for trying to eff with her family.
After releasing a series of Snapchats showing Taylor knew about the lyrics to Kanye's "Famous" before making a big stink about it at the Grammys, it's safe to say Kim dealt a crushing blow Swift is going to have a problem *sighs* shaking off -- I'm sorry-- for a while.
The Caldashian year ended in the oddest way possible, though. Kim was held up at gunpoint while attending Paris fashion week after a gang of armed robbers broke into her hotel room. Though she physically remained unharmed, the robbers did get away with anywhere between $6 and $11 million worth of jewelry.
The event has forced Kim to take some time away from the spotlight. She's reportedly on hiatus from "Keeping up With The Kardashians" and has not updated her social media since.
Kourtney Kardashian
I don't know. She might've dated Justin Bieber for a bit and continued to have this weird "What's the deal with these two?" thing with Scott Disick.
She's not really the one in the family to make headlines. Don't get me wrong, she's actually one of my favorites and often the voice of reason, but she's kind of a non-entity as far as the family is concerned.
Not that she really has to be. She has a bunch of cool kids and seems to have her life together more than the rest of the group. She's sort of above a lot of this stuff.
Keep on keeping on, Kourt.
Rob Kardashian
What. The. Hell. Happened. To. Rob. Kardashian. This. Year.
Let's all just remember Rob Kardashian HATES "Keeping up With The Kardashians." He hates social media. He hates cameras. He honestly probably hates the concept of electricity to some degree.
Yet, thanks to some terrifying nudging by Blac Chyna, Rob's visibility skyrocketed over the past year. I honestly think Blac Chyna should go into law because her negotiating skills to get Rob to agree to do another reality show is next-level. This is the equivalent of convincing a goldfish to buy a timeshare at Joshua Tree.
Next year is going to be a bigger year, though. He's got a baby on the way and I assume there is going to be a ton of drama surrounding whether "Rob and Chyna" gets a second season.