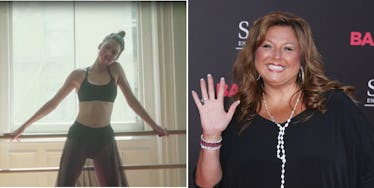 'Dance Moms' Star Called Out Kendall Jenner For Her Vogue Ballet Video
Youtube/REX/Shutterstock
Abby Lee Miller and Kendall Jenner officially have the most interesting beef in Hollywood.
The elder-Jenner was recently the subject of a video for Vogue España where she played a ballerina.
I don't know much about fashion, and this video seems to mostly be rambling... but for some reason, it is seriously pissing off the ballet community.
As much as it seems like a harmless video, those who have devoted their lives to the craft are up in arms about Vogue's portrayal of what ballet dancers do.
Dance Spirit summed up the community's frustration in their post about the video, saying,
Well, this is… confusing. Vogue Spain just posted a video featuring Kendall Jenner — and it is very, very facepalm-y. Why? Because they decided to dress Jenner up in tutus and legwarmers and have her 'do ballet,' though she's clearly not ballet trained. In the voiceover, she talks about 'loving being a kid' and missing childhood; the video is, apparently, a sort of little-girl fantasy on ballerina-ness. Which, OK. But to our eyes, the whole thing reads as pretty disrespectful to the artists who devote their lives to this demanding craft.
Abby Lee Miller, my personal hero and the star of "Dance Moms" (the show responsible for launching Maddie Zeigler's career), joined the charge against Jenner by posting and subsequently deleting a shot from the Vogue shoot to her Instagram.
Ruh Roh, hell hath no fury like an Abby Lee Miller scorned.
She captioned the post with may be the best Kardashian-rant/sales pitch of all time, writing:
I don't make a habit of commenting on all the dancers that post pics with incorrect technique… but I can not be a fan of this shoot. There are so many amazing dancers in the world… Kendall Jenner is not one of them!
As if this wasn't bad enough, she had to drag the rest of Jenner's family into it, too.
Shame on Momager, Kris Jenner!!! She never made these kids take dance class. She better get North West to the [Abby Lee Dance Company Studio LA] before it's too late!
UhhhhHHHHhhHHHhhhhhh, I'm sorry, I zoned out after I read about the possibility of an Abby Lee Miller cameo on "Keeping up With The Kardashians."
Citations: ABBY LEE MILLER OF DANCE MOMS ATTACKS KENDALL JENNER FOR BALLET TECHNIQUE IN VOGUE EDITORIAL (Fashionista)