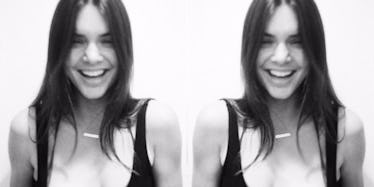 Kendall Jenner Just Shared A Picture Of Her Nipple On Social Media
ALERT: 20-year-old Kendall Jenner is way wilder than 19-year-old Kendall Jenner ever was.
The model, who celebrated her birthday earlier this week, tweeted and Instagrammed a photo of her right nipple to fans.
The nip-nap was censored with a red X -- you know, like the kind pirates mark treasure with on a map -- and it appears it was taken by either Kenny's sister, Kylie Jenner, or Moises Arias (aka @490tx).
I'm just thrilled to see Kendall's non-pierced nipple finally getting equal attention.