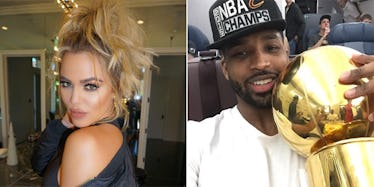 Sorry, Lamar: It Looks Like Khloé Kardashian Has Moved On To A New NBA Boo
I know, you're sitting there at your desk waiting for 5 pm to roll around so you can run out of the office screaming for joy at the fact you have the next three days off, but hold up!
I have some major news to share with you about everyone's favorite Kardashian. No, not Kim. It's our girl Khloé.
According to TMZ, Khloé Kardashian may have herself a new NBA boo: Cleveland Cavaliers center Tristan Thompson.
Sorry, Lamar.
It appears the 25-year-old Thompson and the 32-year-old Kardashian were spotted at a mansion in Beverly Hills, possibly doing some house shopping.
Per TMZ, it appears Khloé Kardashian and Tristan Thompson have been spending quite a bit of time together recently. As you can see in the video below, the pair were seen leaving Bootsy Bellows nightclub within a few minutes of each other last weekend.
To no one's surprise, it hasn't taken Twitter long to start breaking out the jokes about how Tristan Thompson and the Cleveland Cavaliers are going to suck if Thompson and Khloé are indeed dating.
I mean, give these two a chance, will ya? At least wait until after Labor Day weekend to condemn them and the Cleveland Cavaliers.
I wonder what LeBron James thinks about all of this...
Citations: KHLOE KARDASHIAN HEATIN' UP BEV HILLS ... With NBA Champ (TMZ)