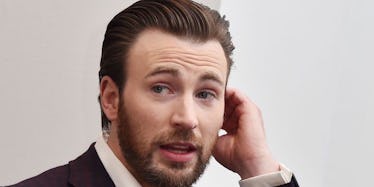 Chris Evans Reveals How He Handles Seeing His Exes In Public
REX/Shutterstock
Chris Evans has no shortage of famous exes.
The Marvel star just broke up with Jenny Slate, and before that, he was linked to actresses like Jessica Biel, Christina Ricci, Minka Kelly and even Sandra Bullock.
The problem with dating so many actresses is you're definitely going to be running into your exes a lot in Hollywood.
Thankfully, Evans has never had a bad breakup. The actor told Elle when he runs into one of his exes, instead of awkwardly trying to avoid them like most people would, he will go in for a big hug and catch up with them.
According to the Elle interview, he says,
I've had no bad breakups in my life. Typically, if I see an ex, I give a big hug, and it's wonderful to catch up. If you're ever fortunate enough to love someone and have them love you back, it's worth protecting that. It's rare that someone can truly know you. And if you've broken through that kind of wall, I think it's important to value that.
I know what you're probably thinking.
"Really, Chris? No bad breakups at all?"
But honestly, it sounds like he really does have a good relationship with his exes. Even though he broke up with Jenny Slate a couple months ago, the "Gifted" co-stars continue to gush about how much they love each other.
Jenny Slate called Evans "one of the kindest people [she's] ever met" after their breakup, and Evans returned the compliment by saying Slate is still his "favorite human." Sounds like the friendliest pair of exes ever, right?
The fact Chris Evans is cool with his exes isn't too surprising, though.
His whole image is very Sensitive Bro™ — I mean, he just admitted that after he lost his virginity he rushed to tell his mom and cried — so it'd actually be pretty crazy if he wasn't super sweet with the girls he's dated.
That said — please get back together with Jenny Slate, Chris! You guys were perfect!
Citations: Chris Evans Has Never Had a Bad Breakup (Elle)