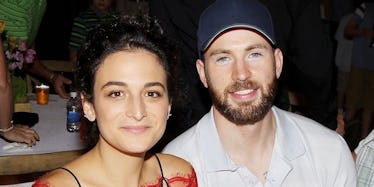 Chris Evans Gushes Over Ex Jenny Slate: 'There's Nothing Not To Love About Her'
REX/Shutterstock
Hey, Chris Evans and Jenny Slate — I have a request for you guys: Get back together. Please?
Especially if you guys are just going to keep saying such lovely, heartbreaking things about each other in interviews all the time, it's just not fair.
Last week, Jenny Slate got incredibly real about her relationship and breakup with the "Captain America" actor in an interview for Vulture. She heaped on the praise for her ex, saying,
Chris is truly one of the kindest people I've ever met, to the point where sometimes I would look at him and it would kind of break my heart. His heart is probably golden-colored, if you could paint it.
Yeah, well, it's breaking my heart, too.
So is this new quote from Evans, who apparently didn't want to be outdone for saying beautiful things about his ex.
In an interview with People, Evans said,
She's my favorite human. She's the best. I've never ever ever met someone in my life who has a mastery of the English language the way she does. She'll give you one sentence and there's no fat to it. You're like, 'You just chose such an unbelievable collection of words that beautifully articulate what you say.' It's like an art form talking with her, because the visuals associated with her expression are just so colorful. She's so vulnerable, so honest, so interested in other people more than herself, she's incredibly compassionate, there's just nothing to not love about her.
Haha cool, I'm just going to go die now.
Seriously. Who says these thing about a person unless they're in love?!
The two first began dating in May 2016, after they wrapped production on their upcoming film together "Gifted." Evans plays the dad of a brilliant child, and Slate plays his love interest and child's teacher.
When it came out the couple broke up last month, supposedly due to "scheduling conflicts," fans of true love everywhere were heartbroken.
We then had our hearts stomped on further when that Vulture profile of Slate dropped, and she explained the real reason they ended things was due to the stress of dating someone so high profile — Like "Captain freakin' America."
She said,
Chris is a very, very famous person. For him to go to a restaurant is totally different than for me to go. I sit in my window and I say 'Hi' to people on the street. I have more freedom because I'm not 'Captain America.' I'm mostly a cartoon. This is what I needed to do to feel normal. To be alone.
OK, yes, I hear what you're saying, but allow me to counter with this: Screw everyone else and date this man.
Pretty please?
Citations: The Year of Living Publicly (Vulture), Chris Evans Has Nothing but Good Things to Say About His Ex and Gifted Costar Jenny Slate: 'She's My Favorite Human' (People)