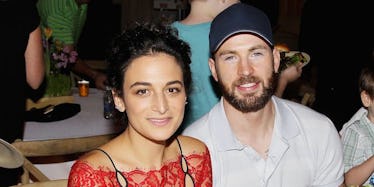 Chris Evans And Jenny Slate Broke Up, So He's Officially Back On The Market
REX/Shutterstock
This one stings. This one stings like a bitch.
It seemed like Jenny Slate and Chris Evans could see forever in each other's eyes. You know, paradise?
Yet here we all are — all of us — facing another celebrity breakup that affects us on a deeply personal level, despite us having no actual involvement in the relationship to begin with.
*heavy-ass sigh*
A source told Us Weekly,
It was completely amicable and a mutual decision due to conflicting schedules and they remain very close friends.
"Conflicting schedules" is Hollywood bullshit for reasons-we-will-never-disclose-because-fuck-you-nosey-assholes, and honestly? Respect.
Jenny and Chris started dating in May 2016 shortly after her three-year marriage to director Dean Fleischer-Camp ended.
The pair star in the upcoming drama "Gifted" and fans can expect their chemistry to be electric (in the event there's a romance plot of any kind, here, because it sure just looks like a movie about a custody battle over a tiny math genius).
Jenny appeared on an April 2016 episode of Anna Faris' podcast, "Unqualified," and, though she hadn't yet made her and Chris' relationship public at the time, gushed over his "giant muscles" and all-around amazing presence.
She said,
I didn't know what to expect when I met Chris… I was a little scared because I kind of felt like, well, I don't know him. He's a giant man with huge muscles and he's Captain America. How could we ever connect? [But the] first night that we hung out, I was like, Wow, I could hang out with Chris for, like, 90 hours.
This doesn't need to end after 90 hours, though. Just get back together, you guys. We can make this work. All of us. We'll go to couples therapy. All of us. It's not too late.
Ugh. Play us out with something sad, Chris?
~but I always thought that I'd see you againnn~
Citations: Chris Evans and Jenny Slate Split After Less Than a Year of Dating (Us Weekly)