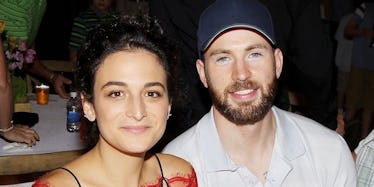 Jenny Slate Breaks Silence On Chris Evans Split: 'We Threw Down Pretty Hard'
REX/Shutterstock
It's difficult to believe any Hollywood romance is real anymore, so when unlikely pair Jenny Slate and Chris Evans split after 10 months together, fans took it hard.
The "Gifted" actress spoke to Vulture about the split and, of course, had only the sweetest things to say about her co-star/ex.
No, really. She said such nice things, I might copy them to read verbatim at my own mother's funeral when that dark day dawns.
Jenny told the site,
I don't mind talking about him at all. He's a lovely person… I don't know. It feels like such a huge thing. Last year was a giant, big year for my heart. I've never, ever thought to keep anything private because that's not really what I'm like, and now I'm learning those things, and they're weird, kind of demented lessons to learn.
Despite going through a very public breakup, the former SNL cast member is candid about her opinion of Chris, who refused to shared his own take on the breakup in a recent Esquire feature.
She said,
Chris is truly one of the kindest people I've ever met, to the point where sometimes I would look at him and it would kind of break my heart… He's really vulnerable, and he's really straightforward. He's like primary colors. He has beautiful, big, strong emotions, and he's really sure of them. It's just wonderful to be around. His heart is probably golden-colored, if you could paint it.
Jenny Slate's ability to formulate that sentiment about a partner she is no longer even seeing is enough to make anyone's heart explode so hard, they'll spend a week flossing blood and tissue out of their teeth.
What? It's not gross if it's true.
Jenny also shared a supremely enviable anecdote about her friendship with Mae Whitman (I know), wherein her fellow actress came to her aide after the breakup.
One night, as Jenny sat alone at a bar reading a book about the Holocaust, she decided to call up her pal Mae. She recalled,
I was just like, 'Can you please help me? I'm so lonely.' And she came and we got shitbombed, and I woke up the next morning and saw my headphones on my neighbor's yard. I have no idea how they ended up there.
BRB. Imagining myself into this friendship as I attempt to live with the grace and honesty of Jenny Slate.
Citations: The Year of Living Publicly (Vulture)