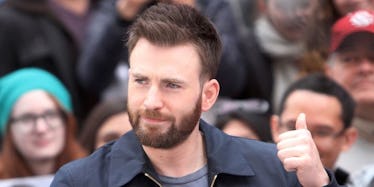 Chris Evans Opens Up About Losing His Virginity And Dating Jessica Biel
REX/Shutterstock
Back in 1999, Prince made it his duty to ensure that, years down the line, when it came time to party — like, really party — the world would do so in the same fashion they had during the final 365 days of the 20th century.
Why, though? Well, Chris Evans might have some insight, because 1999 was one of the greatest of his existence.
During a recent interview with Esquire, the "Gifted" star told interviewer Maximillian Potter the tale of his last summer in Boston before moving to Los Angeles to pursue acting full-time.
He said,
I know I'm going to L.A. in August… So I go home and that spring I would wake up around noon, saunter into high school just to see my buddies, and we'd go get high in the parking lot. I just fucked off. I lost my virginity that year. 1999 was one of the best years of my life.
Yup. Those are all the qualities of a very spectacular summer.
Chris didn't reveal whom he lost his virginity to, though these days he values women who understand the industry in which he works.
He said,
There's a certain shared life experience that is tough for someone else who's not in this industry to kind of wrap their head around… Letting someone go to work with someone for three months and they won't see them. It really, it certainly puts the relationship to the test.
Chris and his "Gifted" costar Jenny Slate recently called it quits after nine months of dating. He wasn't too eager to share the details of the breakup with Esquire.
Chris said,
I'm steering clear of those questions.
During the interview, Maximillian and Chris go skydiving (so casual), an activity the "Captain America" actor has done only once before, with ex-girlfriend Jessica Biel. The couple spent one Valentine's Day jumping out of an airplane because nothing says "I love you" like a near-death experience.
Ultimately, Chris is looking to recapture the joy of 1999 without any of the virginity or hanging out at high schools… because… weird.
He shared,
The truth is, life is going to unfold as it's going to unfold regardless of your input. If you are an active participant in that awareness, life kind of washes over you, good or bad. You kind of become Teflon a little bit to the struggles that we self-inflict… What I'm trying to do is just quiet it down. Put that brain down from time to time and hope those periods of quiet and stillness get longer… You're more connected as opposed to being separate.
Wise words, Chris. Wise words.
Citations: CHRIS EVANS IS READY TO FIGHT (Esquire)