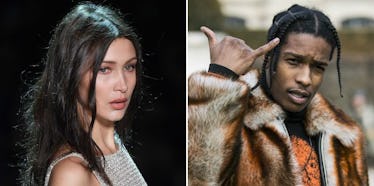 Pics Of Bella Hadid And A$AP Rocky Dancing Have Entire Internet Shipping Them
REX/Shutterstock
Bella Hadid and A$AP Rocky should probably date.
I think so, the internet thinks so and after you see these pictures, you also will probably think so.
On Monday, both Bella and the 28-year-old rapper attended the Christian Dior Haute Couture Spring Summer 2017 Bal Masque. And they hung out. A lot.
Based on the photos, it seems like the pair was really enjoying each other's company.
Some of A$AP Rocky's happiness might be explained by the transparent dress Bella had on.
Still. They were making each other laugh and stuff. It was cute.
A$AP Ferg also briefly tried to get in on the conversation.
But he was pretty much the ultimate third wheel.
So in conclusion, Bella Hadid and A$AP Rocky should definitely date now, please.
True, Kendall Jenner is already sort of, maybe dating A$AP Rocky. And yes, Kendall and Bella are totally BFFs for life.
But that's all the more reason this should happen!
Because if Kendall were a true bestie, she'd know Bella needs this right now.
Homegirl just went through a tough breakup, and then had to watch her ex (aka, The Weeknd) make out with another woman (aka, Selena Gomez).
Aren't best friends supposed to share everything and fuse their lives together until all sense of individuality is lost?
Plus, how serious are Kendall and A$AP Rocky, really?
OK, fine, they went jewelry shopping together or whatever.
But we've also heard the couple isn't exclusive. Just last month, Kendall was out on a date with NBA star Jordan Clarkson.
And we already know Kendall is being super supportive of Bella through this difficult time — especially since Kylie seems to have taken The Weeknd's side in the split.
So yeah, Kendall, be a pal and let Bella borrow your man for a few weeks! Just until this whole thing with Selena Gomez blows over.