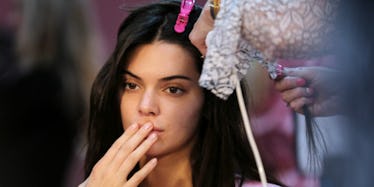 Kendall Jenner Plays The Field With Jordan Clarkson After A$AP Rocky Date
REX/Shutterstock
The plot has thickened to a gooey froth. Kendall Jenner is (probably) involved in a three-way love triangle the likes of which have not been seen since "Bridget Jones's Diary."
I'm not sure if A$AP Rocky is Hugh Grant or Colin Firth in this comparison, but one thing's for sure: Kendall isn't "exclusive" with anyone as of right now and is dating multiple people (like a boss), according to a source close to Kendall.
We reported earlier how Kendall and A$AP went out for a classy sushi date at none other than the upscale restaurant Nobu in Los Angeles on Sunday (literally Sunday fun day goals).
At this point in the article, I'd like to reach out directly to Mr. Rocky if he happens to be reading my prose: Look away, sir. Ignorance is bliss.
Well, the very next day (there's no need to whip out your calendars -- I'm talking about Monday), Kendall was seen out and extremely about with her other rumored romantic interest Jordan Clarkson.
It's o wonder he's wearing camo: If I were him, I would not want to be recognized by A$AP.
Hey, Kendall may be right: Why choose one lover when you can have 'em all?! Sure, this has only ended up in trouble and heartbreak for me, but then again, I'm not Kendall Jenner.
The source, who spoke to E! News, also said,
She's been going back and forth for a while with both Jordan [Clarkson] and ASAP Rocky.
According to Perez Hilton, Kendall and Jordan were out shopping together and the pair were accompanied by two other guy friends.
So, it's not the most date-like of circumstances, but still... if you're introducing your hookup to your friends, someone is bound to think you're more serious than you actually are.
Word up, Dumbledore.
Can someone give A$AP a call ASAP? I just need to hear that he's OK right now.
When it comes down to it, however, it seems that A$AP may become exclusive with Kendall... if he wants (GOD, NO PRESSURE, A$AP).
The source added,
She likes him, and he likes her. She is open to date him exclusively.
Time will tell which seed of love with falter and which will grow.
Citations: Kendall Jenner Is Spotted Shopping With Rumored Fling Jordan Clarkson Just One Day After Grabbing Sushi With A$AP Rocky! (Perez Hilton)