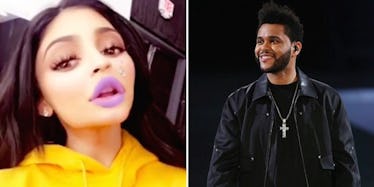 Kylie Jenner Proves She Sides With The Weeknd Over Bella Hadid In New Snapchat
It's no secret The Weeknd has been quite the social butterfly lately.
After splitting with runway model ex-girlfriend, Bella Hadid, The Weeknd didn't waste any time getting back in the game.
Last week, a photo of the "Starboy" singer and Selena Gomez went viral after the two were spotted making out next to a dumpster.
I know, isn't that just so romantic?
The Weeknd's newfound romance with Selena Gomez seemed to make everyone weak in the knees -- well, except for The Weeknd's ex-girlfriend Bella Hadid.
Bella Hadid reacted the to news of "Abelena" by throwing some major shade at Selena Gomez, claiming the young singer was only "using" The Weeknd and that she didn't care about Bella because she was too busy being Taylor Swift's BFF. Ouch.
Apparently, Taylor Swift has somehow managed to resist the urge to get involved in the latest Hollywood relationship drama.
But that hasn't stopped other celebs like Kylie Jenner from joining in on the feud.
On Tuesday night, Kylie Jenner was spotted with The Weeknd and Tyga at the Italian restaurant Carbone in New York City, despite the all the recent drama.
If that's not enough to show where Kylie Jenner's loyalty is, she also posted a Snapchat that proves she's totally on Team Weeknd.
That's right. Yesterday, Kylie shared a short video clip on social media that shows her lip syncing in a yellow sweatshirt while someone spruces up her hair.
However, she wasn't just belting out the lyrics to any old tune.
She was serenading her followers with The Weeknd's song, "True Colors."
While we can't be sure if this is Kylie's way of sneakily throwing shade at The Weeknd's ex or just some sort of strange coincidence, Kylie has sent a pretty strong message that she's siding with The Weeknd over Bella Hadid.
Sorry, Bella.