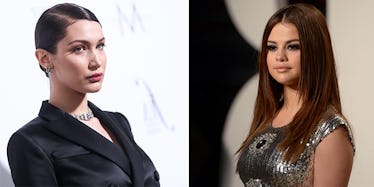 Bella Hadid Apparently Claims Selena Gomez Is 'Using' The Weeknd
REX/Shutterstock
The drama between Bella Hadid and Selena Gomez continues!
*grabs popcorn*
About a week ago, photos of the "Hands To Myself" singer making out with The Weeknd went viral on social media.
The couple locked lips next to a dumpster and it was sexy as hell. You could literally see their tongues swirling around in each other's mouths!!!!
Just look at these high-resolution images.
HOT, RIGHT?!
Right!
Everyone on the internet was hardcore feeling Abelena except for The Weeknd's ex-girlfriend, Bella Hadid.
Yup, the girl was pissed to know her friend Selena Gomez was sucking face with her old bae.
Well, now there's new information about the real reason Bella Hadid is not happy with her ex's new romance.
According to Us Weekly, Bella Hadid claims Selena Gomez is just "using" The Weeknd. *GASPPPPP*
A source close to the stars told the outlet Bella still wants to be with him but "Selena doesn't have any reservations about hooking up with Bella's ex."
The source also told Us Weekly Selena "doesn't care" about Bella and Gigi because she doesn't spend too much time with Taylor Swift's crew.
On top of that, Taylor Swift, who is friends with Selena and Bella, isn't taking sides and wants to stay out of the drama.
Good call, Tay.
Selena Gomez and Bella Hadid clearly have beef over the situation because Bella unfollowed Selena on Instagram.
Shortly after, Bella added a picture of her flicking off the cameras. It was basically her way of saying "fuck you" to Abelena.
DON'T MESS WITH THE HADIDS.
The love triangle is more complicated than we think because The Weeknd hung out with Kylie Jenner on Tuesday evening.
Bella Hadid and Kylie Jenner are good friends, so doesn't that break girl code for Kylie to be chilling with her BFF's ex?
Awkward! Keep your chin up, Bella. I'm here for you. And so is this guy:
Citations: Bella Claims Selena Gomez Is Using The Weeknd (Us Weekly)