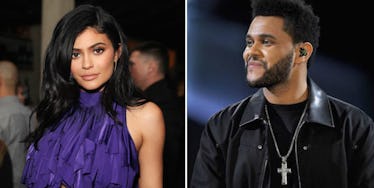 Kylie Jenner Hung Out With The Weeknd Despite All The Bella And Selena Drama
REX/Shutterstock
Sorry, Bella Hadid! It looks like your ex-boyfriend, The Weeknd, is a pretty popular guy.
First, he was spotted with Selena Gomez and now Kylie Jenner. The ladies can't get enough of the "Starboy" singer!
On Tuesday night, The Weeknd went out in New York City with his good pals Tyga and Kylie Jenner.
He third wheeled an intimate date night at the Italian restaurant Carbone with the couple. How cute!
Photos of Kylie Jenner, Tyga and The Weeknd surfaced online on Wednesday morning.
The 19-year-old reality star was spotted wearing a nude top, red leather skirt and matching jacket. Tyga wore a black tracksuit with red fiery flames.
Hell yeah, Kylie. Work those angles.
The Weeknd decided to keep his look low-key and just wore all black. YOU STILL LOOK GREAT, ABEL. I love your face. I love your style.
Y'ALL ARE STRAIGHT FiiiiiREEEEEE!!!
The only question I have for the Weeknd is, UHHHHH WHERE THE EFF IS SELENA?
Cute, right? There's only one problem.
Selena Gomez and The Weeknd apparently started dating months ago and Bella is pissed.
A source told TMZ the 20-year-old model feels "betrayed" by the "Hands To Myself" singer.
The insider says Bella was the one to end things with The Weeknd, but she only did it because it was too hard to keep things long distance.
The source says The Weeknd and Selena Gomez started hooking up about two months ago... aka right after things ended with Bella.
ALSO, Bella and Gigi Hadid apparently helped Selena Gomez when she was going through a rough time. Ouch, this whole thing is awkward AF.
The source says,
Giving Bella and Gigi a heads up would have been the respectful and honorable thing to do… but I guess that's just Hollywood.
I'm personally a big fan of Abelena, but I do feel bad for Bella Hadid.
On top of that, isn't it a little weird Kylie Jenner is now hanging out with her good friend's ex? Bella and Kylie go way back!!!!
Hang in there, Bella! Maybe you should date Justin Bieber to make things even. Just a suggestion!
Citations: Kylie Jenner And The Weeknd Went Out In NYC (Daily Mail)