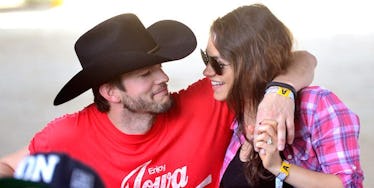 12 Times Ashton Kutcher And Mila Kunis Proved They Were Perfect For Each Other
Getty Images
Ashton Kutcher and Mila Kunis are one of the hottest and most enviable couples in Hollywood.
Their love story is a fairytale. We literally got to watch them grow up on screen as Kelso and Jackie.
Then, we patiently waited around for them to figure out they were meant to be (sorry, Demi).
Now, we're just lucky to be living in a world where they exist as one happy family with their two kids, and constantly do adorable things like go on The Bachelorette and help judge a group date because they love the show so much.
Yeah, they're pretty much perfect. Don't believe me? Take a look at all the times they proved it.
1. When Mila admitted Ashton was her first real kiss -- on the set of That '70s Show.
Back in 2014 after getting engaged, Mila told W magazine,
My first real kiss ever was with him on the show... We all get movie star crushes. I'm marrying mine.
3. When Mila talked about the values she and Ashton want to instill in their children.
Ashton and Mila are the proud parents of 2-year-old Wyatt and 4-month-old Dimitri.
During a radio interview while pregnant with their son, Mila said,
The one topic of conversation we had even prior to ever having kids was always 'How do you raise a child to not be an asshole?' And it's so important because we both came from pretty, pretty, solid poverty backgrounds and grew up very poor and are very much self-made and are very aware of what a dollar is worth.
4. When Ashton surprised Mila on the set of Ellen and they played a hilarious game of "Never Have I Ever," revealing Ashton actually helped Mila wax before she gave birth to Wyatt.
5. When Mila gushed about how handy her husband is around the house.
He's a Midwestern boy and his dad is a carpenter, so he makes things. You know, I don't really have a plumber or handyman. I have a husband, and so like, I have a genuine 'honey-do list' for the weekend where I'm like this is a bad drawer figure this out. This door is squeaky.
On an episode of Live! With Kelly, Kutcher whispered the name to Kelly, not realizing he was wearing a microphone. Then he said,
No way people heard that. Oh thank God. I thought it was over! I would have been murdered. The wife would have taken me out!
We now know they named their son Dimitri Portwood Kutcher.
7. When they took their job announcing the starting lineup for the LA Dodgers VERY seriously.
8. When Mila revealed just how "hands-on" Ashton is as a dad.
My husband is an incredibly hands-on dad. When my child was born, I was breast-feeding and he said, 'That's your connection, I want to change every diaper.'
9. When Ashton really proved Mila's point about his dad skills and found a genius hack for fixing the Crayons.
10. When Ashton celebrated Mila on Mother's Day with an adorable sign.
Presumably Wyatt helped out a bit.
11. When Ashton said Mila "kicks [his] ass on character."
In a speech accepting the Robert D. Ray Pillar of Character Award, he said,
I'm telling you, this morning, I woke up and she kicked my ass on character. I thought I was awesome because I got up early and helped with the kids before she woke up and I let her sleep a little bit and then she's like, 'Well, now you're gonna act tired? I do it every day.' But it was a character moment, right? Because she's right!
12. And when -- just this week -- we learned they love The Bachelorette so much, they actually called up the producers and asked to be a part of this season.
Welp, that list either made you believe in love or made you depressed because you are sad and alone and might never love someone the way they do.
If that's the case, might I suggest re-watching last night's Bachelorette? After watching Rachel's takedown of DeMario, you're bound to feel slightly better about your own relationship status.