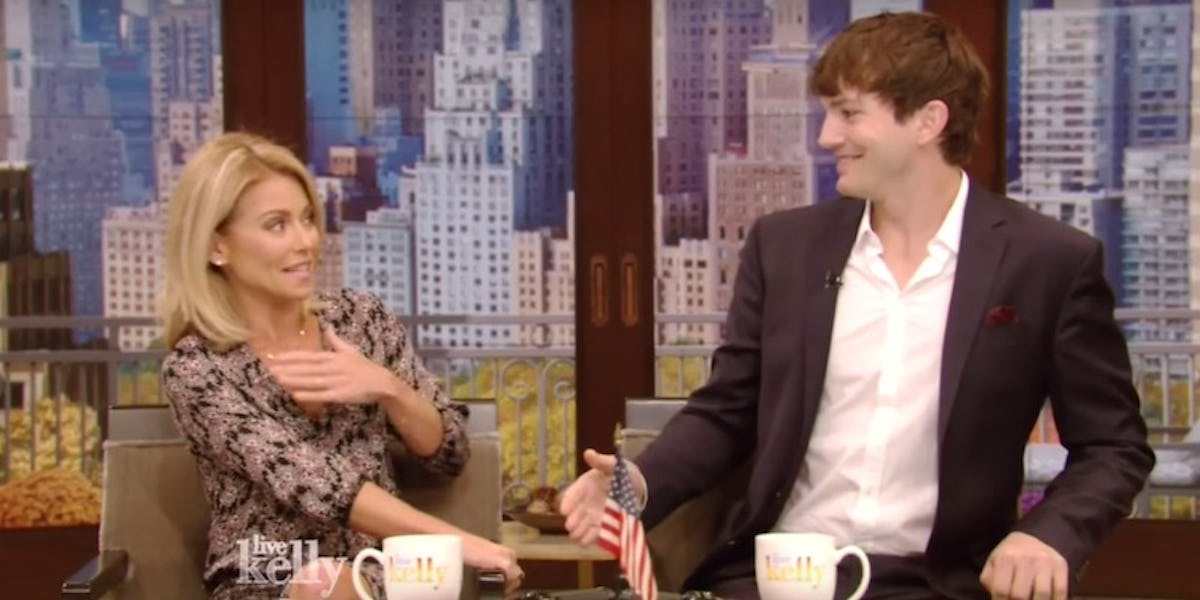 Ashton Kutcher Panics After Almost Revealing His Son's Name On Live TV
YouTube
Ashton Kutcher just dodged a bullet. A divorce bullet.
As Kelly Rippa tries to fill the Michael Strahan-sized hole on her show, she's been having different celebrity guests sub in to help her keep the morning program going.
Actor and walking Vyvanse commercial Ashton Kutcher was the latest guest co-host to take a seat on the "Live with Kelly" set, and it nearly led to a massive fight between him and his wife, Mila Kunis.
The couple, who already have a daughter named Wyatt, are expecting a second child, and although they've already announced they're having an "Hombre" they haven't said what they're calling him.
Thinking the mics were off, Ashton whispered the name of his soon-to-be child to Kelly before realizing everyone in the room and watching at home may have just heard what he said.
A panicked Kutcher then quickly asked producers,
No way people heard that. Oh thank God. I thought it was over! I would have been murdered. The wife would have taken me out!
Not acknowledging how he may have just totally spilled the beans on what the next Kutcher-Kunis child may be named, Kelly responded,
That's a really good name! You know what it is, it sounds established.
The thing is, we were able to kind of hear what Ashton said. Based off what we know about the gender of the child and what we know about how the Kunis-Kutchers name their children, we can kind of narrow it down to three potential names: Baron, Barry or Barret.
My money is on Baron. Barry is too mainstream of a name, and Barret is wayyyyy too crazy even by Hollywood standards.
Baron, the whitest name available, is "established" yet alt enough to get Ashton interested in naming his kid it.
Super pumped for Baron Kutcher-Kunis.
Citations: Ashton Kutcher Almost Reveals His Sons Name and Mila Kunis Wouldve Murdered' Him (E!)