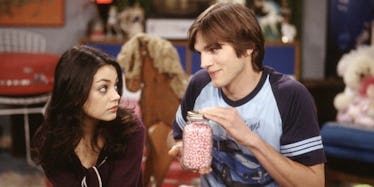 Ashton Kutcher Revealed The Gender Of His Second Baby With Mila Kunis
FOX
BABY NUMBER TWO IS ON THE WAY, FOLKS!
Back in June, Ashton Kutcher and Mila Kunis announced they're expecting baby number two and we couldn't be more excited for them.
The pair already has an adorable daughter named Wyatt, and now they're getting ready to welcome another member to the fam.
So, will Wyatt have a baby brother or sister?! TELL US ALREADY.
Ashton actually spilled the beans Thursday morning on the "TODAY" show. While chatting with Savannah Guthrie, Ashton shared his daughter doesn't really understand Mila's pregnancy. He explained,
She points to Mila and she's like, 'baby brother' when she points to the belly... and then she points to Dad and she goes, 'beer.' So I think she gets there's something in the belly, but I don't quite think that she knows that it's not going to be a plastic doll yet.
UMM, WOAHHH. HOLD UP. Ashton and Mila are having a baby boy? SHUT THE FRONT DOOR.
Are you telling me there's gonna be an adorable Ashton Kutcher mini-me crawling around their house? That baby is gonna be the cutest little bundle of joy.
Ashton and Mila are also pretty adorable parents. The 38-year-old actor gushed about his wife to Ellen DeGeneres:
The most amazing thing about having a baby is my partner, Mila. She's the greatest mom I can't even. I go to work every day and I come home and she's like perfect. And it just seems like everything went amazing. And I know that something probably didn't go amazing, but she never tells. … It's unbelievable. She's incredible.
I have tears in my eyes, this is so beautiful.
Congrats, you two! Mila Kunis, I hope you're ready for this. Your household is about to be OUT. OF. CONTROL.
Citations: Ashton Kutcher Mila Kunis Baby Boy (E Online)